If you are renovating your house or want to give your old couch a new life by renewing its fabric, you need to choose the best couch fabric.
For this, it is important that you know about the types of couch fabric that exist and the types of sofa materials that are according to your Wishlist as well as comfortable.
Sofas come in a huge range of materials, each offering something a little different in some way or another. The choice can be overwhelming, but you can narrow down your options by looking at your lifestyle.
Households with pets and lots of children will need a sofa made from resilient materials that are easy to clean. If you're living alone or with someone, you might be able to get away with something a little more delicate.
Here you will get all the information about the sofa/couch fabric types, their names, materials, etc.
Types of Couch Fabric and Material Details
The below list contains some of the best options to choose from, along with their details of material and way of use.
1. Leather Couch
Leather sofas are one of the most luxurious couch fabrics to give your furniture a formal and subtle look.
They can be preferred for guest rooms only for guests and not daily use as any stain costs a lot.
Its further splits into two types of couch material:
Matt leather: It is a leather that has a matt texture, and used for formal use mostly.
Glossy leather: this leather has a shiny and glossy touch and thus can be used as a lounge sofa.
It is preferred because it keeps you safe from sofa stains and scratches. Food spills can also be easily cleaned from it as it is slippery and texture. The material fabric is really smooth and comfortable.
Leather also plays an important role in preventing the sofa from getting heated and keeping it cool. You definitely need to pay a good amount when making this choice and color is also limited.
But the reliability of the fabric is ensured, and the money you spend is actually worth it. Not only your place will look classic, but the fabric is really guaranteed to stay fresh longer than other fabrics.
2. Polyester Couch
Polyester is a material in couch fabric that is made out of synthetic fibers, Faux leather. It is often used to upholster furniture as it is safe to expose to sunlight and for daily use at the house.
Polyester couch comes in a variety of colors and designs you can choose from. These include patterns, colors, and styles.
You can vary it according to the interior and walls of your house. It has amazing durability and tight-knit quality.
Below are some benefits of using polyesters for your couch and why it is the best choice to make.
Polyester home furnishings are stain-resistant.
Polyester is a strong, durable fabric.
Synthetic fabrics tend to be less expensive.
Synthetic fabrics also are more scratch-resistant due to their strong construction.
Polyester is hypoallergenic.
3. Acrylic Couch
Acrylic couches are also made from synthetic fibers that come in many variant colors and textures. They are highly preferred for being one of the cheapest and most reliable choices to make.
Some stains may be difficult to remove from it, but as a whole, it is really comfortable for the couch as the material is soft and comfortable to sit on.
You can easily change such types of material when you wish others as these are most of the time used in many houses for being used in rooms and lounges.
4. Wrinkle Resistance Fabric
By its name, Wrinkle-resistance fabric tells that it does not cause wrinkles on the sofa and doesn't need to be set it again and again.
But it is not reliable for long-term use. As if it is used regularly by your kids and pets, you need to choose a long-lasting fabric that can withstand stains, scratches, and furs.
For this case velvet is the worst choice you can make as it attracts fur and can not be cleaned again and again.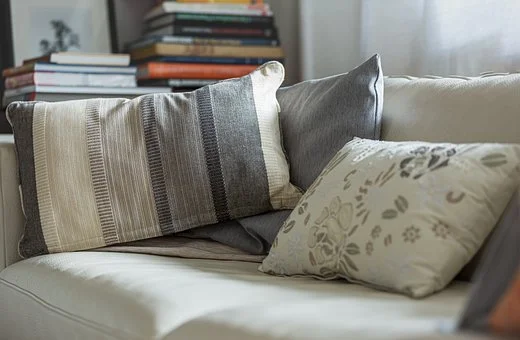 5. Linen Couch
Linen couches are really in these as they are on the most comfortable and ranged group of fabric. One of the big plus points of this fabric is that it can be easily removed to clean, which means that it goes for a long time.
It's not recommended to those who have pets at their house, as removing it repeatedly can cause it to torn away.
You need to be professional with fabric kinds of stuff as linen fabric comes in many replicas that are not good in quality and won't be used for longer.
Linen is really soft and easy-to-use material to go for if you want it for your dining couches.
6. Velvet Sofas
Velvet sofas are one of the most luxurious forms of sofa covers. It comes at a good price to be paid, and the end look is actually admirable and worth the money you spend on it.
Velvet sofas are used in the house that tends to make a statement and not for regular uses.
Velvet can be produced using either synthetic or natural fibers. Synthetic velvet is generally very robust, while natural velvet needs a little more care. The fibers are vulnerable to direct sunlight, and spillages will be quickly soaked up. Velvet also tends to attract pet hair.
7. Woolen Sofa
Woolen sofas are the best option for sofa material types and also one of the most luxurious fabrics to use. It may get overheated in summer and become a cozy area in winter.
Moreover, those who have a pet at their houses might not use these as it attracts pet hairs. It is not the preferred material for the sofas.
Woolen stuff is made out of blended materials, which can cause an unpleasant form of material not comfortable to sit on if varied.
The major downside of wool is that it needs to be dry clean to avoid warping. That coil shape we talked about will be compromised if the fabric absorbs moisture.
8. Racine Couches
Racine couches usually appear in office furniture but nowadays they are also welcomed in home furniture.
At first glimpse they might give a leathery look but as a whole Racine is a lot different in material and price from the original leather.
Unlike, leather, it comes in a bunch of different shades and colors. It also removes liquid stains easily; much can not bear scratches of cats and dogs' paws.
So, if you have a pet at home then it is not recommended, you should go for other options such as original leather if you have a budget.
9. PU Sofa
PU fabric is a glossy alternative to leather which is stretchy as well as way cheaper than leather. Moreover, they are less in price than the original leather. But as the price is low, the quality is also not that A1.
So, if you want a luxurious look at a low price, then you should make a PU your cost-effective choice.
The PU fabric is recommended for those who want to give their sofas a luxurious look and want to make a statement. It gives a very classic and formal look to your furniture.
10. Chenille Couch
Chenille fabric is a popular choice for couches and other upholstered furniture due to its soft, velvety texture and durability. In addition to being made from cotton, acrylic, and other materials, the fabric is known for hiding stains and wear. There are a variety of colors and styles for chenille couches, making them a versatile addition to any home.
Frequently Asked Questions – FAQs
What are some Best Couch material types?
Pu
Polyester
Leather
Woollen
Rugged fabric
What are the types of sofa fabric names?
Red Velvet Case
Black Gloss leather
Woven woolen case
Arabic PU polyester
Colourful Linen
What is the most durable couch fabric type?
Leather is often considered the most durable type of couch fabric. It withstands wear and tear, spills, and stains better than most other fabrics. However, certain synthetic fabrics, like microfiber, are also very durable.
Which couch fabric is easiest to clean?
Microfiber is often considered the easiest couch fabric to clean. It can be cleaned with soap and water and is resistant to stains and spills. Leather is also easy to clean, but it requires special cleaning products and care.
How do I choose the right couch fabric for my lifestyle?
Consider your lifestyle and needs when choosing couch fabric. If you have pets or children, you may want durable, stain-resistant fabric. Those who live in hot climates may find breathable fabric more comfortable. If you have allergies, you may want a hypoallergenic fabric.
How do I care for and maintain my couch fabric?
The care and maintenance of your couch fabric vary depending on the type of fabric. Follow manufacturer instructions for cleaning and care.
Are hypoallergenic couch fabric options available?
You can choose from organic cotton, linen, or bamboo fabrics for hypoallergenic couches. These fabrics are free from harmful chemicals and less likely to trigger allergies.
Conclusion
Making a fabric choice that is both cost-effective and comfortable to use is actually difficult. But once you get through all the options like the above different types of Couch fabric, then it might be easier for you to make a choice.
Couch material types offer the best comfort level according to people's requirements.
All you need to do is keep in mind your price preference and how big your family is. Making a choice according to your interior and walls.
There is a wide range of options, all you need to make the right decision matching your sense of style taste, and home decorations.
Once you keep all these things in mind, you will definitely make one of the best choices in the end. And all the money you spend on it will actually be worth it.
Some materials are those that are though reliable but have no range of variety.