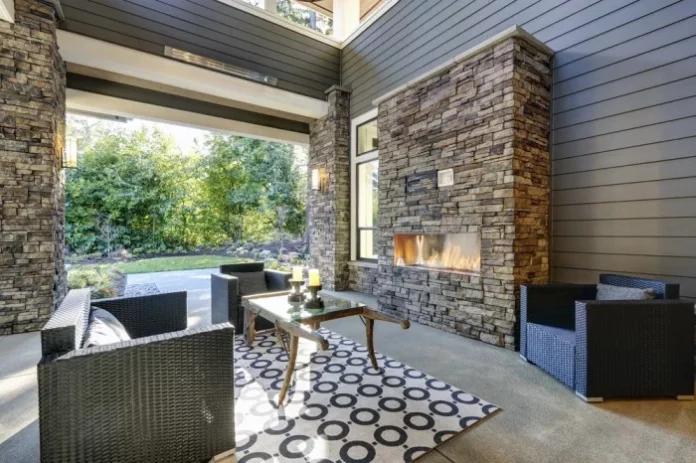 Having an outdoor space and not knowing what to do with it can be a real thorn in the flesh. Indeed, that is the conundrum with many homeowners who are blessed with these large areas but don't have an idea how to turn things around. Decorating your outdoor spaces can be a bit tricky, that much is sure, but that is not to say it cannot be done.
Area rugs work wonders indoors, and the same effect can also be achieved for your outdoor spaces. These include porches, patios, and garden setups. We like to chill and sometimes relax in these areas, and for us to achieve the ultimate comfort and tranquility, great décor options have to come into play. Area rugs are just the perfect go-to solution for your outdoor spaces.
Are you looking to spruce things up? Let us examine six tips to help you place area rugs in your patio and outdoor settings.
Copyright: Steven Ungermann on Unsplash I License: CC0 Public Domain
1. Try Bold Colors And Patterns
Here's tip No. 1: Use area rugs with bold colors and patterns. Before you set out on your trip to get an area rug, consider getting one with lots of bright colors and eclectic patterns. Yes! These work perfectly, especially in dark or shaded outdoor spaces. Aloha rugs are a great example.
Bold colors bring out a more than usual spark in these kinds of exclusive areas. It is always best to go for area rugs made out of synthetic materials like polypropylene and can be used reversibly. So you are certain of getting double value for your money if you need to tweak the view of your patio.
2. Experiment With Layering
To rid your large outdoor areas of their blandness, don't be scared to experiment with rug layering. Rug layering works well in indoor spaces and will do the same outdoors. Using two rugs, one over the other, is a great way to enrich a rather large patio and give it some elemental elevation.
Start first by laying a larger area rug and then topping it with a much smaller one. Different color combos are permitted as long as they are not too contrasting. But if you want to keep things simple but elegant, try rug combinations with similar shades.
3. Establish A Theme
In setting up your outdoor space, it is great to maintain a constant theme across all areas. These could be using the same color schemes or maintaining a particular design or pattern. For instance, you could use the area rugs that match the same colors as the throw pillows on your patio sitters.
Alternatively, you could opt for a theme or pattern that matches the drapes surrounding the perimeter of your porch. It creates a cozy ambiance that can serve various purposes. Imagine the look with a candlelight dinner. That's certainly something to look towards.
4. Define Spaces
Another way to cozy up your patio with area rugs is by defining spaces. This small but elemental detail can really work wonders in a rather large patio, especially if you don't want to work on the whole space. By defining spaces, you can maximize your limited materials and still bring highlights to these areas around the house.
Choose a corner around a large patio and set up a bold, round area rug with close-up furniture pieces. It could be two cane setters and a large coffee table in the middle, and you are there!
5. Create A Transition
Most doors leading from the inside of the house to the patio are usually bland and add little to no suspense to the story. But you can change the narrative by setting up a transition between these two areas. Although, this depends on how the space is set up.
An area rug will work wonders in a slim passage leading up to the middle of a large patio setup. You can build intrigue by laying out a rectangular area rug to usher your guests into the cozy outlook of your circular porch or patio.
6. Consider High-Traffic Areas
Lastly, while thinking about placing area rugs in your outdoor spaces, you also need to make maintenance a priority. Area rugs situated in high-traffic areas around your porches, patios, and pool areas are prone to trapping dirt due to human activity moving to and fro.
Therefore, you need to be mindful about picking a material, mostly one that is easy to move around and clean. This way, your area rugs can maintain their spark every time.
Copyright: Juli Kosolapova on Unsplash I License: CC0 Public Domain
Get Your Outdoor Spaces Pumping With Life
You've just learned six ways to enhance the ambiance of your patios, porches, and terraces with enchanting area rugs. The year is on, and you can still tune things up a notch by getting area rugs for your outdoor spaces. You can never go wrong with any one of them.