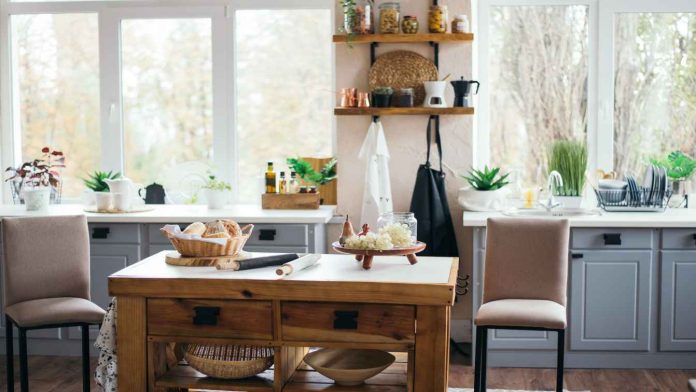 The kitchen is the heart and soul of every home. It is not only a place to nourish and replenish your body, but also a place where you can have fun with your entire family. You and your children can bake cakes and cookies, learn new recipes, and experiment with food.
Aside from that, it's in the kitchen that you can have the most fun with your closest friends. You can invite them to your home to cook, drink, and laugh with you. Remember that the kitchen is where some of the best memories are made.
That's why it's essential to keep your kitchen as cozy and warm as possible, especially during the cold season. Doing so will make your kitchen more welcoming and comforting for your guests, family, and friends to walk around, explore, and enjoy.
So, how do you do it? This article will provide some helpful tips for making the heart and soul of your home as cozy as you desire. Continue reading to learn more.
5 Tips to Create Cozy Ambience to Kitchen
1. Do It The French Provincial Way
Applying the styles and intricate designs of a French provincial kitchen is one way to give your kitchen a cozy ambiance. It combines town (urban) and country (rural) interior designs, creating a timeless, rustic, and sophisticated charm. This style is ideal for those who want to experience the French countryside, where simplicity meets elegance beautifully.
French provincial kitchens should be soothing, textured, and warm—perfect for a simple, relaxing, yet luxurious lifestyle. It uses materials once prevalent centuries ago and combines them with neutral colors to mimic the French countryside's rustic, sophisticated, and elegant ambiance.
Here are some tips for creating a cozy, countryside-inspired kitchen:
Use Natural Stone Flooring: Natural stone flooring is a common interior element in most French provincial kitchens. It helps the design to be more intact and complementary with each other. Aside from flooring, you can apply natural stone to your countertops to maximize its stunning effect.
Try Timber Flooring: Timber wood is a standard construction material in French provincial kitchens. It's often combined with primary colors like white and cream to create a warm, cozy, yet elegant ambiance. You can also use it in your furniture, kitchen cabinets, and doors for a natural feel.
Use The Right Accessories: French provincial kitchens use accessories with a rustic touch, such as copper pots, nickel handles, and chrome hardware that'll take you back in time. Also, don't forget to include a few antiquities for a perfect countryside-inspired kitchen.
2. Use The Right Lighting
Kitchens must be well lit to prepare food properly and prevent unwanted fire- and knife-related injuries. Lighting has to be as bright as possible, but don't forget that it should also be soft and warm to create a relaxing atmosphere.
Using low-wattage bulbs is a simple solution. That sounds appealing, but remember that such light bulbs can make cooking difficult, particularly when preparing an intricate and delicate dish.
Alternatively, choose light bulbs with a warmer hue instead of bright white light to keep your kitchen bright. You may also consider using light-dimming switches to adjust the light whenever you want, depending on your mood or the mood of your guests.
You can improve the look of your kitchen by installing pendant lights or other overhead lighting fixtures. As a piece of advice, make sure each light bulb is connected to a separate circuit or switch so you can instantly transform the mood by turning off a couple of lights.
3. Embrace Warmth With Warmer Tones And Colors
Using autumn colors throughout your kitchen is a great way to achieve your desired cozy ambiance. This is especially true if there is a fireplace or a range top that draws everyone's attention because the warm colors will complement the colors of the flame, creating a striking yet familiar and comforting effect.
One way to achieve this is by using darker wood tones, such as red maple, European oak, black walnut, cherry, or white oak. You can use them on your flooring, countertops, tables, chairs, cabinets, and other furniture and kitchen units. However, don't use them too much to avoid losing the warmth ambiance you want to achieve.
Aside from using darker wood tones, you can also use darker-colored tiles. You may consider applying them to your flooring and backsplashes. If you want to add more depth of warmth to your kitchen, paint your walls with honey-like tones that complement the richness of your dark wood flooring.
4. Use Plain And Simple Kitchen Appliances
Simple kitchen appliances are excellent additions to any kitchen. They're pleasing to the eye, creating a relaxing and soothing atmosphere that every cozy kitchen should have. However, in addition to aesthetics, consider functionality when selecting appliances.
For example, consider using a small appliance like a bread toaster, coffee maker, or oven toaster instead of one you hardly ever use. Moreover, it would be best if you looked for appliances with simple or neutral designs and hues, such as classic white or creamy vintage.
These colors will help create a welcoming and soothing environment. If such appliances aren't available now, you could either wait for new releases or look for another palette that can complement your countertops, walls, and backsplashes.
5. Invest In Complementary Accessories
The kitchen bridges the gap between style, function, and practicality. Investing in complementary accessories as decoration can help soften the environment and add dimensions while remaining functional.
Look for vintage and timeless artisanal collections, such as vintage kitchen appliances, traditional rugs, and other items that can improve the depth of coziness in your kitchen. You may also keep your pots and pans by hanging them around to create a more rustic feel.
When it comes to the dining table, you may use lightly-patterned tablecloths and napkins. This will help in creating the impression that the kitchen table is not only functional but also interpersonal.
Final Words
Creating a cozy kitchen is a great way to make your kitchen functional yet stylish at the same time. However, the process can be daunting and overwhelming, especially if you don't know where to begin. So, before applying the tips mentioned above, start with a theme and find the range of colors that will suit your taste and fit your home. This can make choosing the right accessories, paint colors, kitchen appliances, and lighting fixtures much more manageable.