Whether you're growing your garden or want to ensure that your home's exterior is in mint condition, you should ensure that your property is pest-free. While you may already be worried about keeping your home clean, you shouldn't forget that you need to take care of the outdoors as they can damage your property and lawn as well.
While some people think that having outdoor pests is nothing to worry about, they can ruin your property's appearance, along with damaging your exteriors, which may require extensive repairs, causing you plenty of money. With that, you should ensure that your home is pest-free inside and out.
Moreover, listed below are the tips for effective pest control:
8 Pest Control Tips to Keep Pests Away
1. Hire A Pest Control Service
If you see that your home is experiencing a massive number of pests and there seems nothing you can do to remove them on your own, you should consider hiring a pest control service that can help you get the job done. When hiring professionals, you can guarantee that your home will be pest-free in the best way possible. Moreover, you can ensure that they leave no pests behind, which can ruin your lawn and your house's exterior.
When hiring a pest control service, ensure that you look for the best one in the market. You can search for various companies online like Yard Butler pest control or other similar businesses. Make sure that you read their company reviews and services offered to check if they can accommodate the pests you currently have in your home.
With the help of professionals, you can ensure that there'll be no pests inside your property that can ruin your house. Moreover, they'll have the right tools that can properly get rid of any problems without causing any further damage to your property. With experts, your home would be in good hands.
2. Dispose Of Garbage Properly
Even if it's outside your home, you should always dispose of your garbage correctly inside the trash can. While it might seem harmless to leave your cup chips wrapper on your outdoor table, the smallest food particle could attract pests which could invite more into your property, making them stay longer. To keep that from happening, you should dispose of any garbage you have properly as soon as possible.
Ideally, having outdoor garbage wherein you can throw out any rubbish you have is advisable. You can throw any garden or garage waste there and ensure that you throw it out of the house every day. During the day, you should keep the garbage can's lid closed at all times to prevent any pests from coming inside. Even if it may appear that the pests are only getting inside your trash can, there might be some pests hiding in your property that are just waiting for you to leave to appear.
3. Don't Let The Water Stand
While it may seem to be physically impossible to keep the water from standing after the rain, you should provide your home with a proper drainage system that can lead the water away. Also, it helps keep pests away from your home by leading the water away or to a drain, keeping your house flood-free. Apart from the central areas of your yard, the side of your home's walls is more prone to have standing water, which can ruin the quality of your home and invite pests to your property.
If your home has frequent standing water, expect mosquitoes will pay a visit to your property, which could bring harmful health concerns for your family. Along with this, they could also affect the life of your garden if you're growing one.
As for your gutter, you should direct the pipe into the drain hole to prevent any water accumulation around the area. While it can be an expensive upgrade, it'll provide long-term benefits for your family, keeping your home pest-free and your family safe from any health issues.
4. Clean Your Pond Regularly
If your yard has a pond or water fountain, it'll be impossible for you to remove the stagnant water as one of the features in your home. To ensure that you won't be inviting any pests inside your property, you should clean your pond regularly.
You can clean your pond by clearing out any string algae using a net, brush, or your hand. While they can provide a few benefits for your pond, it'll be best if you could keep their number to a minimum as an extensive population can invite pests inside your property.
Additionally, it would be helpful to add hydrogen peroxide to give the water a quick treatment, keeping pests and other bacteria away. Unlike with pools, you can't drain the water to clean the pond thoroughly. With that, the best thing you can do is remove any dirt inside the pond and provide any special treatment to keep the water clean. As you add hydrogen peroxide, try to avoid adding too much as it can affect the health of the plants and fish inside.
5. Always Trim Your Lawn And Shrub
If you have a lawn, regularly trimming them should always be a part of your routine. If you neglect to take care of your lawn, you can expect it to develop poor quality grass along with inviting mosquitoes and ticks inside your property.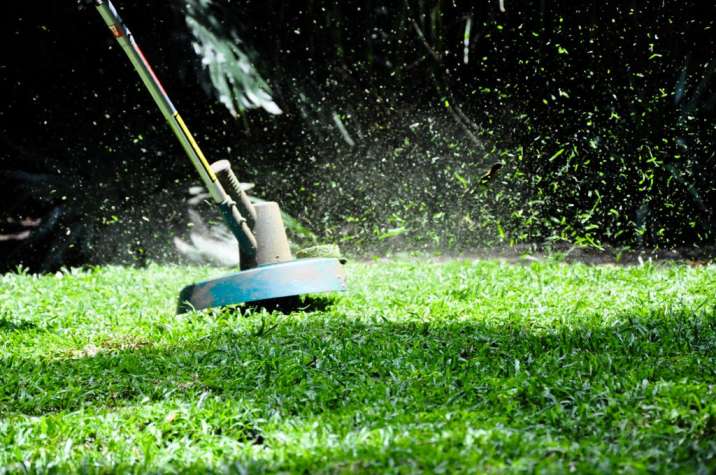 Ideally, you should mow your lawn at least once a week or more, depending on the growth of your grass. If you don't have much time to mow your lawn more than twice every week, you should consider putting your mower in the shortest setting for regulated growth.
Besides that, you should always trim your shrub regularly. Apart from preventing any pests inside, an unmaintained shrub can be an eyesore, ruining the appearance of your property. The number of times you'll need to trim and prune your shrub would depend on your plant's growth. If you don't have much time to care for your garden, you should consider hiring a regular gardener or switching to a low-maintenance shrub instead.
6. Maintain Wood Features
For your outdoor furniture and features, you'll probably be using plenty of wood materials as they can blend perfectly with it. While they can make your lawn, deck, and porch look beautiful, poor maintenance can invite pests, such as termites and carpenter bees, which can ruin their quality and health. To keep that from happening, you should practice proper wood maintenance.
For your wood materials, you should regularly inspect them thoroughly and look for any signs of damages, holes, termites, or carpenter bees. You should also clean your deck thoroughly once a year using a power washer. However, be careful with the pressure as aging wood can easily break, causing further damage to your property.
After power washing your deck, you should sand it lightly after 48 hours or until the wood dries completely. Afterward, begin sealing the wood properly to prevent any pests from damaging the wood. It'll only be once a year of heavy work that can maximize the lifespan of any wood inside your property.
7. Don't Let Trash Stand Still
Your outdoor is a tempting home for large furniture or objects you wish to throw away, but you can't do it immediately. While you can easily store any old furniture on your lawn, keeping them for too long can invite pests inside, making it their new home. With that, you should immediately throw away any large furniture and avoid dumping them outdoors.
To get rid of it, you can host a garage sale, donate it to a charity, or hire the same-day rubbish pick-up service that could grab your large furniture and bring it to their recycling centers. Since the latter is an expensive option, you should consider gathering as much large furniture as you can so you can make the most of your money. For a cheaper option, you could hire a skip bin in which there'll be a dumpster staying in your yard for a maximum of three days which allows you to place any rubbish you have inside your property.
8. Use An Insect Repellant
Sometimes, no matter how much you clean your yard, mosquitoes and other insects would still like to go inside your property, especially if you have a healthy one. To prevent them from coming over, you should use an insect repellant and spread them evenly on the borders of your yard to keep your home insect-free.
You can spread out chemical insect repellant around your yard in which you need to refill regularly to ensure its effectiveness. For a more natural approach, you might want to consider using citronella grass, lavender, rosemary, and basil to keep any pests away. In this way, you can keep your property pest-free while also having a good source of herbs that you can use around your home or your kitchen.
Conclusion
We hope with the above mentioned pest control tips would help you to clear your space from pests. Keeping your property pest-free is challenging. But with the right amount of maintenance and care, you should be able to achieve a healthy yard that you'll be happy to enjoy friends over for a backyard party. While it might be challenging to maintain it well, especially for larger spaces, it can guarantee the longevity of your property, eliminating any immediate need for repair and replacements from the pest's existence.
Moreover, if you have an uncontrollable number of pests inside your property, never hesitate to ask for help by calling a professional pest control service that can keep your home tidy and healthy for everyone.