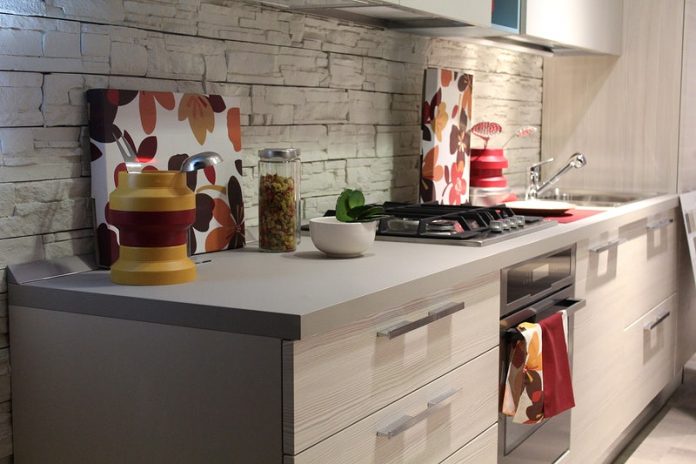 Backsplashes in your home at open walls are both functional and attractive. They are easy to clean during those inevitable kitchen spills, and they complement the home's general style.
There is no doubt about the functionality of backsplash but the real question is where should my backsplash start and stop? Is there any set of guidelines for this? During any design consultation, this is the most common question. The answer is determined by your home's aesthetic, financial constraints, and other variables. Here are some points on how to put a backsplash in your home and what Is the best way to finish a backsplash on an open wall?
How to end backsplash on open wall?
In a space where there is a top counter, the backsplash is usually built at a height of about 4 inches overall. This means there will be a significant gap between the backsplash's peak and the base of the wall cabinets. These 4-inch backsplashes could be found in the majority of historic houses that still have their original kitchens. Rather than tile, these backsplashes were typically made of the same material as the kitchen countertop.For example, a granite countertop with a 4-inch granite backsplash could give the idea that the countertop is growing up your wall.
In recent decades, the practice of extending the backsplash up to the base of the wall cabinets has grown in popularity, and it has become the usual method of installing backsplashes in homes, particularly in kitchens.
Now let's get to some general guidelines on where to end backsplash on open wall to make it easier for you to decide based on different settings.
Basic Guidelines for Backsplash Placement
A variety of factors determine where your open wall backsplash begins and ends. A backsplash may be required if there is a visible row of upper and lower cabinets but that is not always the case. So, here are some pointers for circumstances that aren't so obvious:
Look for smooth transitions
To serve as the backsplash's finishing point, use a super smooth transition. Find existing lines in the region and continue them with your backsplash's top border. The base of upper cabinets, the bottom of your window, and the range hood are all frequent lines to consider when deciding where to terminate your backsplash.
Having a lot of lines in a room might make it look disjointed, but extending existing lines keeps the design constant and tidy.
Finish within a corner
After determining the height of your backsplash, consider how far it should extend vertically. The majority of design experts agree that an inside corner is an excellent area to transition from one material to the next. You'll get the inside corner if your countertop reaches a sidewall.
Seek out a natural halting point
When installing a backsplash, the main tip is to seek for a natural stopping place. This might be a wall, a window, the cabinet's border, or something else different. Use tile edging trim or bullnose tile to create a distinct edge for the backsplash. A unique edge design, such as a set of hexagon tiles that taper away, can also be used.
Stick Only to the Primary Cabinet Walls
When it comes to backsplashes, bigger isn't always better. The backsplash protects the walls above the counter from food splatters, cooking oil, and water stains. Although it is permissible to push boundaries for aesthetic reasons, there is no need to go all the way to the roof. However, it appears to be fantastic.
End the backsplash at upper cabinet side
If your counter and cabinets aren't aligned, you have a few options. It's possible that the backsplash will end when the upper cabinets end. It is, however, usually preferred that it be aligned with the counter.
You can also taper your tile or tilt your backsplash to naturally connect the top and bottom. Another option is to start with the base cabinets and extend the backsplash to the ceiling. This is a great option for open-concept homes since it creates a separation between the kitchen and the rest of the area.
End the backsplash with counter or cabinet
Because the backsplash's primary function is to protect the wall from spills on the countertop, many people extend their backsplash all the way down to the countertop. If you don't have higher cabinets, consider extending your backsplash to the ceiling as a unique and appealing option. This creates a highly contemporary look that will work well in today's home spaces. Because you'll be seeing it a lot, choose a tile that you enjoy.
Make sure your counter/cabinet and backsplash are all in sync
It is recommended that you finish your countertop, top cabinets, and backsplash in a vertical line if you are building a new kitchen or renovating an old space of home. The space will appear nice and clean if these boundaries are kept aligned. If your countertop and cabinets are already in place but not aligned, you'll need to be a little more creative to make them look nice and appealing.
Create a focal point with your backsplash
Because your backsplash takes up the majority of the wall area in your kitchen, use it to create a focal point. You may use mosaic tile to run vertically from your stove to the ceiling. Above the sink, you may put a set of accent tiles. Don't be scared to try something new in order to make your home design truly unique and aesthetic.
Blend Tiles
If you have an open wall and aren't sure where you want your tiles to finish, use a discreet backsplash that won't draw attention. If you're concerned about the point at the tile's end seeming odd, use tiles that are the same color as the wall.
For example, In a room with white wall paint all around, choose white or cream tiles for the backsplash. The end of the backsplash will not create a hard and distinct line on the walls, resulting in a softer transition between the two surfaces.
Make use of as much as you can
If you want to make a statement with your backsplash but don't have the means to tile all the way to the ceiling, tile as high as you can. You can make your own backsplash if there isn't an evident finish point. The backsplash will become its own natural endpoint wherever you decide to stop.
Our Take!
We hope that you've cleared with your query that how to end backsplash on open wall. Keep in mind that a full-height backsplash may not be as expensive or as intrusive as you think it is. For just a little more money per square foot, a traditional porcelain tile with an optional contrast grout may provide a sophisticated, classic aesthetic, making it a more luxe-looking alternative than a higher-end material used sparingly.