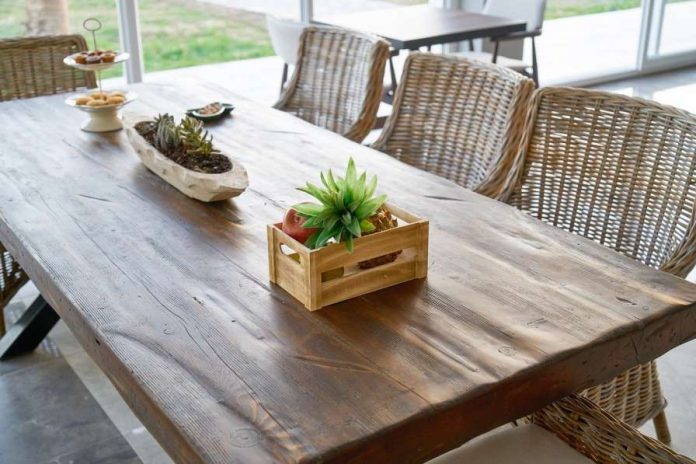 Reclaimed wood has been popular for years, and many homeowners prefer this material because of its durability. Reclaimed lumber is generally harder than virgin wood because it already lost a significant amount of moisture content. In addition, many property owners like salvaged wood because of the latter's eco-friendliness. With reclaimed wood, the need to cut more trees is reduced.
What makes reclaimed wood even a better option than its counterparts is its flexibility to design. This attribute makes salvaged wood an ideal material for creativity. Suppose you're interested in more salvaged wood projects. In that case, here's an article that could help you know more about the artistic ways of using it at home:
1. Repurposed Headboard
The first of the many options on this list is the repurposed headboard. This reclaimed wood project offers an easy-to-clean fixture. Because of its sturdiness, it makes a perfect headboard. Its poor heat conduction quality makes it an even better material.
2. Wine Rack
Wine racks are present in most homes. Generally, homeowners buy steel-based frames for this. With reclaimed wood, homeowners could have a wooden-themed rack and shelves for the wine. Salvaged wood's flexibility to design makes it an excellent option to have various wood designs. In addition, reclaimed wood has the strength to hold wine bottles with elegance.
3. Coffee Table
Typically, homeowners are troubled with coffee stains when it comes to tables. Luckily, reclaimed wood's classic look is a good deal for this. While there's an option to reprocess the wood to have a smoother finish, its original look could still have the natural look of timber most people desire.
4. Kitchen Islands
Kitchen islands are some of the popular kitchen upgrades today. Primarily, they create a more expansive space for food preparation and storage. In addition, it makes a more organized flow of people coming in and out of the kitchen. Reclaimed wood would top any kitchen remodeling that'd include kitchen islands.
Reclaimed wood could be the island's foundation, countertops, and stools, apart from being kitchen island drawers or cabinets. It all depends on the taste of the homeowners and the availability of the lumber.
5. Nightstand
In most cases, nightstands are only made and put in a room for design purposes. Yet, it could be a piece of excellent furniture for late-night activities. It could also work as additional storage. A nightstand made of salvaged wood would give a classic feel to a room, plus an extra space where people could easily reach their things.
6. Serving Trays
More often, it may seem perfect to have a wooden coffee table and wooden trays. They seem to complement each other well. Wooden trays are best for carrying hot utensils, pots, and other cooking materials that could scald. In addition, wooden trays generally have bigger space for more items. Yet, making serving trays out of reclaimed wood may take more preparation than other projects.
7. Bed Crates
Aside from panels and headboards, a bed casing is one way of using reclaimed wood inside a room. Most pieces of salvaged wood have pre-cut sizes. This condition makes reclaimed wood ideal for wood panels and frames. Hence, making a wooden crate for the beds may take lesser time.
In addition, wooden crates help reduce the heat from flooring, making the bed more insulated. Furthermore, wooden bed crates can have add-ons as reclaimed wood have different pieces to work on for smaller projects such as bed drawers and detachable, movable bed.
8. Slab Dining Table
Wooden furniture has the strength and durability of steel and metal furniture, but it's generally preferred because wood doesn't conduct heat. In addition, homeowners can have different designs. They're also easy to clean even if they're painted or heavily soiled.
Having a reclaim wood slab type for dining tables is a good option if homeowners seek versatility and sustainability. Eating at a robust table makes the process more enjoyable and worth something to cherish with.
9. Timber Shelves
Kitchen shelves are some of the busiest storage spaces in the kitchen. First, they're where utensils and other containers are kept. Second, they could store food. To have efficient kitchen shelving, homeowners could use reclaimed wood in the process.
Reclaimed wood is as strong as stone. Hence, it could be durable shelf support and provide an elegant design. In addition, homeowners could save money for them since they're less expensive than most long-lasting materials.
10. Fireplace Mantel
Before, a fireplace mantel referred to surround the fireplace's opening. Today, the fireplace mantel is more decorative work. Reclaimed wood would make an excellent fireplace mantel because it brings back the looks and feels of classic mantelpieces. In addition, they're sturdy and have excellent design adaptability.
11. Wooden Dividers
When it comes to a home's appeal, salvaged wood could accentuate one's existing design. Pieces of reclaimed wood could turn into unique wooden dividers. They'd not just serve as decors but also create distinct spaces inside the house. These dividers could be used not just in bedrooms but also in the living rooms as well.
12. Pergola
Having a pergola out of reclaimed wood provides a bigger and better space outside the house. In addition, it'd increase the value of a property. It also improves curb appeal. Having all these advantages, homeowners should consider having their versions of wooden pergola. What's more, salvaged wood seems to work well with plants and greenery compared to metal and other materials.
Final Thoughts
Because of reclaimed wood's design flexibility, it's open to any wood project at home. The long line of advantages makes it a relevant material to any wood project. Reclaimed wood can be suitable for any part of the house, even in yard spaces.
If you're planning to have a reclaimed wood project, you may consider what you've got in this article. The helpful tips here could help you decide which project would be perfect for your needs. In doing so, consider the ones that won't just make you happy but would also give great use to you and your family.