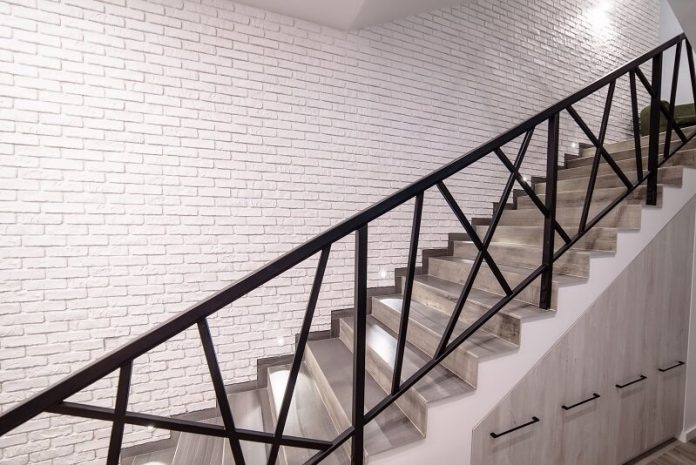 After weeks of thinking about it, you finally decided to renovate your home. You started looking for ideas on how you can revamp your bedroom, living area, and kitchen, but you're probably overlooking one smaller space in your design plans: your staircase.
Because the staircase is one of the first things people will see when they enter your home, you need to exert effort to ensure that it looks good. It'll be challenging to impress guests with your interior look if your stair railings look outdated, unkempt, or dull.
7 Ways to Spruce Up Stair Railings
1. Add A Fresh Coat Of Paint
Who says you need to break the bank just to beautify your stair railings? By entrusting a quality contractor to paint your stair railings, your staircase will look new while still keeping your bank account happy.
If you're clueless on what colors to choose for your stair railings, these tips can help:
When choosing a paint color for your stair railings, consider the overall color of the room. Ideally, your stair railings should be painted in similar or complementary hues to create a more polished, cleaner look.
You can also go for the classics and paint your stair railings white. This color creates a lighter and airy feel, making your interiors look elegant and clean.
Instead of using one color to paint all of your stair railings, why not use different hues to paint your baluster? You can consider painting your baluster in different shades of blue, green, or yellow, to add a visual appeal to your interiors.
You can also take it up a notch by using two colors for your stairs. For example, you can paint your balusters and risers with white and then your handrail and floors with honey oak. Two-toned staircases add depth and a sense of luxury to the space.
2. Update It With Glass
Stair railings are often made from wood, but do you know that you still have plenty of materials to choose from? Instead of using wood for your stair railings, consider upgrading to glass. This will surely make a statement and make your interiors more unique.
Updating your stair railings with glass will also make your space look larger as natural light can easily pass through. Glass railings are also very easy to maintain—you just need to invest in a high-quality glass cleaner, wipe the glass down, and you're good to go.
3. Use Unique Materials
If you want your stair railings to be aesthetically pleasing and unique at the same time, think out of the box. As mentioned, wood is a common material used in railings, but you can actually play around with various items and use them as railings.
Draw inspiration from the ideas below so you can dress up your stair railings:
Use a custom branch: Bring the outdoors inside your home by using a custom branch as your stair railings. Thanks to their unique shape and texture, custom branches will surely make your stair railings more appealing.
Play around with ropes: Consider using ropes as your stair railings if you're going for a nautical-themed interior design. This material adds a rustic charm to the space.
Utilize pipes: For industrial-themed homes, using pipes as stair railings is an excellent idea. Metal pipe handrails are easy to install and maintain.
4. Go Horizontal
Although vertical balusters are common, you can actually replace them with balusters going in a horizontal direction. Aside from making your stair railings more distinct, horizontal balusters also create a very modern aesthetic that will surely make your interiors pop.
Horizontal balusters are also cheaper than vertical as the former requires lesser materials for installation. Because of this, you can finally enjoy brand-new-looking stair railings without spending a lot of money.
5. Use Salvaged Doors
If you love trying out various DIY projects, use salvaged doors as your stair railings. Salvaged doors have the most beautiful features and will work well if reclaimed wood has become a prevalent material in your interior.
You can also stain the salvaged doors to your preferred color to ensure that the materials match your existing home decors. Are you going for an all-white interior? Stain the salvage doors in white. Do you want to retain the original color of the wood? Choose red and pink stain colors for your salvaged doors.
6. Add Seasonal Decors
Because of its size, how your staircase looks can make or break the aesthetics of your interiors. A staircase that looks unkempt or damaged will likely grab the attention of your guests first, no matter how well-decorated your living room is.
Maximize your staircase by decorating your staircase based on the season. For example, if Christmas is right around the corner, decorate your stair railings with wreaths paired with Christmas lights and ornaments. If you want to celebrate Halloween, hang spooky decors, such as spiders, spider webs, and skulls on your stair railings. You can even add some Jack-o-Lantern with candies and chocolate inside to create visual appeal.
7. Bring The Outdoors In
Using plants as decors indoors can provide a lot of benefits. For one, plants add pops of color to the space, improving how your interiors look. Plants also improve indoor air quality as they remove toxins and pollutants.
Another way to spruce up your stair railings is by adding plants. Depending on your preferences, you can grow vines to cover your stair railings entirely or place one pot in every two or three balusters or do a combination of both.
With the variety of plants to choose from today, you can easily find one that matches your lifestyle and the theme you're going for. Even if you're not naturally blessed with a green thumb, there will always be some indoor plants that you can easily care for!
Final Words
Regardless of whether you want small or major updates on your stair railings, you have plenty of options to choose from. These options also allow you to pick a decorating hack that suits your budget and the interior design you're aiming for.
To ensure success in your attempt to spruce up your stair railings, don't hesitate to contact professionals whenever needed. They have the experience and tools to work on your stair railings to ensure that this area will become one of the focal points of your interior!