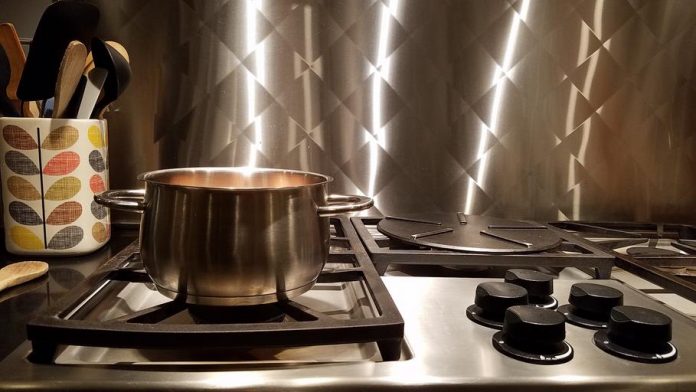 Are you tired of all the scrubbing to clean your glass stovetop? Have your stovetop lost all the shine and neatness with the grime and grease? If you are looking for a glass stove top cleaner to remove severe burns and oily stains, then welcome; you have landed on the right page.
Cooking is the core of every kitchen. If you are the kind of person who loves to cook and try new dishes every weekend on the glass stovetop, then the mess of the kitchen would not be a new thing for you. If you are already stuck with the jumble, you should know that cleaning the stovetop with desi cleaning tips will not work at all, especially for baked items.
The stovetop becomes a battleground when you fry an egg or make a bowl of soup. If you keep using the stovetop without cleaning it properly, then the mess and stains will become stubborn with time. Also, the stubborn stains minimize the performance of the stove performance.
So it is really important to invest in the best stove top cleaner for a clean look and better cooking performance. You cannot pick any stovetop cleaner from the store as there are many options for every stove surface material, and not every cleaner will work the same for the stovetop surface.
But with so many options out there, you might be confused about which cleaner to buy for your glass and electric stove top cleaner. Here we are to help you. We have hand-picked the best glass-top stove cleaner for you. Please have a look at them and choose the right one according to your choice and need!
7 Best Glass Top Stove Cleaner
CERAMA Bryte cleaning kit for glass stovetops is one of the best options out there. This power-packed cleaner is ideal to use in your everyday cleaning routine of cooktops. It is powerful enough to clean hard-cooked stains and gentle enough to wipe the glass top without aggressive scrubbing.
This complete package makes your job easier as the kit includes 10 ounces of cleaner, two cleaning PADS, a scraper, and a grip PAD tool.
An amazing feature of this cleaner is that it does not contain any plastic beads that might scratch your glass top while cleaning.
The strong formula is made for heavy-duty cleaning. It gives a shine to the stovetop to make it look like a new one, along with deep cleaning. The tough stains and greasy mess can be cleaned with it while maintaining the shine.
The labs test it, and it qualifies to be used safely on glass tops. It is a silicone-free product and completely biodegradable which marks it a safe solution on the list.
The 4.7 stars and 4000+ rating of the CERAMA Bryte vouch for its efficiency and quality. It is a good choice to have a smooth, clean, and sparkling glass top of your stove.
Pros
Heavy-duty cleaning formula
Silicone free
Safe for glass and other stovetops
Recommended by stovetop Manufacturers
Cons
WEIMAN is famous for its professional, scratch-resistant, and non-abrasive formulas for clean and brighter stovetops without damaging them.
This product from WEIMAN is a combo of cleaner and polish that makes it the best stove top cleaner. It has won the Amazon choice award with its high rating and well pricing.
If you are fidgeting with the dirty look, burned food, and baked stains on your stovetop, then this might be the right glass stovetop cleaner for you. It cleans your stovetop of tough grease and grime and then polishes it right away due to its dual combination.
It dissolves stubborn grease, food residues, and caked-on particles with a simple step. You have to apply a minimal quantity on your stovetop with a kitchen towel or soft sponge and let it sit there for some time and then wipe it off, and you are set.
If the stains are old and stubborn, let them sit there for around 30 minutes, and it does the job for your scrubber.
Even after years of usage, this product has been proven to make the glass stove look brand new. Amaze yourself with this powerful dual-functioning cleaner and let your stovetop sparkle.
Pros
Scrubs without scratching
Multi-purpose glass top cleaner
Biodegradable formula
Quick and easy cleaning
Cons
Say goodbye to scrubbing and damaging the shine of your glass stovetop and welcome Scotch – Brite rejuvenating cooktop polish in your kitchen.
This rejuvenating formula from Scotch-Brite can bring brightness back to your glass stovetop. Now you don't have to clean hard and spend your precious time scouring your stovetop.
Scotch-Brite cooktop polishes and cleans all the stains and hard spots and polishes the glass with a fabulous shine. The phosphate-free formula is tried and tested to be safe for glass tops.
The pleasant smell of the cleaner leaves a good vibe in your kitchen. Just put a small dab of it and spread it with a paper towel. Give it some time to perform its Magic and wipe the product away. All the ugly-looking stains and tough mess are gone leaving behind a sparkling shine. There is no need for rinsing later on.
It is considered as one of the favorite glass and electric stovetop cleaners with its Amazon choice award. Now let's break all the hard-cooked grease and mess and get your hands on this excellent solvent and bring back the sparkle to your stovetop.
Pros
Scratch-free formula
Phosphate-free
It gives excellent shine to the stovetop
Water-based polish with natural ingredients
Cons
Bar Keepers friend cooktop cleaner is your next BFF in your kitchen. This liquid stovetop cleaner comes in a pack of 13 ounces. The formula is specialized to give you a smooth and clear surface of the glass.
It can dissolve all kinds of debris, residue, grease, and even rust as it is designed to scrub without scraping.
Along with removing stains and grease, it can remove deposits of Hard Water Minerals. Apply it directly to the glass top or apply on a sponge and rub it gently. Wipe it to dry after rinsing thoroughly.
It has the unique quality of being safe to use on glass surfaces and other surfaces, which earn it its place in the best glass top stove cleaners list. It does not contain phosphates and harsh chemicals. Other than glass, it is safe on brass, porcelain, copper, and chrome surfaces too.
It has the ingredients of natural citric acid and organic elements, which certifies it as a safe option to be utilized in the kitchen. It can be used exceptionally well throughout your kitchen because of its multi-purpose feature.
Pros
Glass and multi-surface cleaner
Effective on toughest stains
Loaded with natural and organic ingredients
Works on hard water mineral deposits
Cons
When it comes to cleaning kitchenware, Scotch Brite is a firebrand. This amazing little tool has the immense power of cleaning off the grease from your glass top stove with just water!
It uses innovative micro scrubbing technology to clean the cooktop easily without any hard mess. Effortless to use, it is the best glass stove cleaner which leaves the stove surface radiant in minimal time. Another advantage is that it is dishwasher safe. The product is designed to give chemical-free cleaning, meaning you don't need to spend your money buying extra scrubbing liquids.
This best glass top stove cleaner contains a wand with a comfortable design that provides excellent grip while scrubbing tough burnt areas. Replaceable sponge heads with micro-surface design wipe clean the grease while leaving the surface scratchless.
Just sprinkle a little water onto your stove and scrub your way to a shiny stove in no time. When done, wipe the stove with a clean cloth or towel for a shiny outcome. You can easily rinse the heads with water.
Specially designed for glass top stoves, the gadget comes in a box with two replacement heads and one cleaning wand.
Pros
Chemical-free cleaning
Ergonomic design
Scratchless cleaning
Impeccable cleaning power
Dishwasher safe
Cons
Designed for glass tops only
Weiman stove top cleaners have always provided their customers with the utmost satisfaction. This heavy-duty cleaner leaves a commendable shine to your appliance, even if it has nasty grease stains. Let's see why customers are absolutely in love with the Weiman cleaning ranges!
Firstly, the cleaner contains an eco-friendly formula that gives a gentle yet efficient clean against tough food burnt spots, oil spills, and grease residues to keep your appliance good as new.
The innovative formula of this best glass top stove cleaner is safe to use on induction grills, flat electric top grills, ceramic and glass tops, and even halogen glass. It comes in a leak-proof plastic bottle with a flip-top bottle lid. You can conveniently pour the creamy cleaner on your stove and wipe it with a clean cloth or towel.
Since the formula is effective enough to undo the residues, it needs no particular scrubbing sponge or pads.
Weiman works best for baked-on spots and also works as a polish that keeps your stove shining brighter. It is the best stove top cleaner when you are not willing to spend a lot of energy cleaning the stove after preparing the day's meal.
Pros
Biodegradable formula
Safe for all surfaces
Effortless cleaning action
Restores the shine
No spilling
Cons
No cons
If you are looking for something that cleans your glass stove with a professional finish, then you need to consider this massive glass top cleaner by Magic.
Irritating grease spots stand no chance against Magic's non-abrasive formula. Its gentle formula removes all the grime in just seconds and leaves the surface shining and scratching less. The highly protective formula makes it an excellent electric stovetop cleaner.
It contains a signature recipe with stay-clean technology, which helps clean the glass, ceramic surfaces, induction tops, single, double plate burner, and single plate burner with the least effort. Usually, powerful cleaners leave the fear of scratches, but you will always get a scratch-less shine with this stove cleaning product.
Stay clean technology adds an invisible protective layer to the stove surface, making the polish last long and keeping your kitchen brighter.
It is also very easy to use. Remove the seal from the cap and squeeze an adequate amount directly on your cooktop. When all the spots are covered, go ahead and scrub the stove with a clean paper towel. The Magic stove cleaner is the best ceramic stove top cleaner since it uses an equally safe formula for ceramics.
Pros
Lasting polished effect
Safe for all cooktop types
Restores the look
Scratch-free cleaning
Non-abrasive formula
Cons
Needs rubbing for effective clean
Some Considerations for Choosing the Best Glass Top Stove Cleaner – Buying Guide
Stoves make up an important part of the kitchen. A shiny stove will catch the eye and inspire curiosity, whereas a stained one does the opposite if you plan to add a new touch to your kitchen. Then you need to know that it depends a lot on you picking the best stove top cleaner.
Some people deem a stovetop cleaner as a trifle not worthy of exploration. But you will be surprised to know how important it is otherwise. Below are some facts to keep in mind when buying a stovetop cleaner.
Formula
A stovetop cleaner is nothing but a formula packed in a container. When buying a stovetop cleaner, make sure to choose a neutral pH formula. A neutral pH formula contains the neutral value of 7 on a scale from 0 to 14, neither acidic nor basic. It helps retain the natural shine and luster of the surface. Moreover, it works best when cleaning appliances with a stainless steel finish.
Ease of Use
When looking for the best stovetop cleaner for grease, make sure you choose an option that is easy to use. The market floods with outstanding options these days, each product besting the other in some regard. Always prefer a cleaner who cleans effectively and efficiently.
Surface Friendly
This point requires attention. While picking up a stovetop cleaner, always make sure to double-check if it works for your stove or not. You shouldn't pick a ceramic cleaner for a glass surface stove or vice versa. A substance that doesn't match the surface will leave streaks on your stove.
Most cleaners are versatile, but it is of utmost importance to be sure because, in the end, a scratch is far worse than a grease stain.
Affordability
A stovetop cleaner isn't something that lasts for a year, so you can't invest in it only once. Observe the price when buying a cleaner and what is the best feasible solution your budget allows. Always stick to the top glass top stove cleaner, which is easily affordable and respects your budget. Of course, you can't manage a whole new budget for a stovetop cleaner.
OUR BEST PICK?
Still not sure which cleaner to buy? Well, worry not, we will let you know our opinion.
Keeping the above facts in mind, we will highlight the best product which works for all surfaces. Weiman glass top cleaner has the right effective formula and a reasonable price. It is exceptionally easy to use and cleans the stove with minimal labor.
Wrapping Up…
A stove cleaner is a must for cleaning the notorious greasy face of your stove. And any cooking expert would like their best tool to have the perfect radiant appearance. The best glass top stove cleaner is the one answer to all problems since it assists a homemaker to restore the clean look after every use.
FAQs
Which is the best glass top stove cleaner?
The Weiman stove top cleaner kits are the best and most preferred by users. Its cleaning formula is well-suited to almost all types of stoves.
How do you use a glass stove cleaner?
Pour an adequate amount of cleaner paste onto your stove and wipe it using a clean paper towel or cloth. You can also let the cleaner sit for some time for the best results.
How do you clean an electric stovetop?
Warm up the stove for a few minutes and pour water on it. Sprinkle some baking soda and let it sit. Wipe it around with a washcloth. Then pour an electric stovetop cleaner and wipe the surface to degrease it completely.
Can I use the same cleaner for the glass and electric stovetop?
It would be best if you don't use a cleaner for glass or electric stovetops without making sure it is formulated for that specific surface. Or else it will scratch the surface.