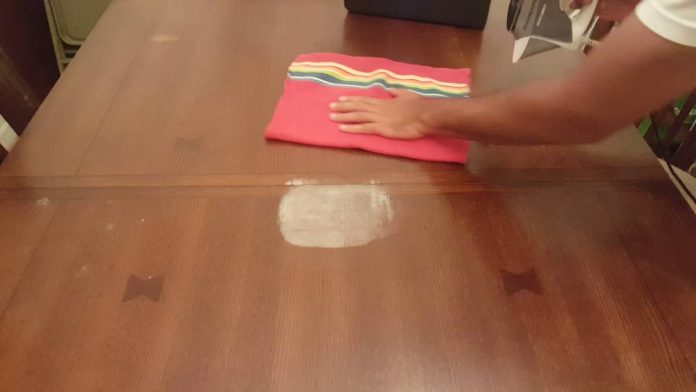 Wood is the most preferred furniture material for its beauty and aesthetics. It has the uncanny power to transform a room into something more elegant instantly. However, in exchange for all of these wonderful qualities, wood is more vulnerable to staining and damage than other materials. Even aftercare wood gets stained and white marks are will be formed by repeated use over time and won't despair.
Before getting into it let's be sure of what we're talking about and how it happens. Heat alone is considerably more likely to result in a burn mark, which is brown to black in color. The damage we're talking about is milky white in appearance and is caused by a mix of heat and moisture.
Heat stains are one of the most common types of damage that can happen to any wood furniture. Such stains can turn even the most exquisite furniture into an eyesore. These stains are small discolorations that can form on wood furniture when hot items have been left on the surface for a prolonged period of time.
What Causes Heat Stains on Wood?
The combination of heat and moisture causes heat marks on wood. When you put a hot cup of coffee or a hot pizza box on a wooden table or other wooden furniture, the heat from the object causes pores in the wood to open and retain water. As the wood cools, the pores close, collecting moisture inside the wood surface and resulting in ugly white stains. Moist can also cause this to happen, even without the container being hot. So the trick to solving the problem is to get the moisture out of the finish.
If you know how to remove those unattractive marks off your furniture, it might be recoverable. By putting in the effort to make your furniture seem new, you can save hundreds of dollars.
11 Best Ways of How to remove heat stains from wood:
There are a number of different ways to get rid of heat stains on wood. Different people swear by different methods. But before trying any method, allow the piece of furniture to sit for several hours, giving the moisture the chance to make its way out on its own. This is especially likely to occur when the staining was caused by condensation on a cold container rather than by heat but it can happen with hot containers as well.
Let's discuss some of the most effective methods of how to remove heat stains from wood table or any of your other favorite furniture pieces.
1. Iron and Towel
Place a towel over the heat mark and use the steam setting on your iron. The steam should remove heat stains from the wood table. Just make sure any steam-related moisture is also wiped away from the surface.
2. Hairdryer
Clean the table's surface with a cloth and allow it to dry completely. Reduce the heat on the hairdryer to the lowest level and move the hairdryer over the heat stain gently until it disappears.
3. Lemon Juice and Ash
Combine the cigarette ash and lemon juice until you have a paste-like thick consistency. Apply the paste to your furniture and rub it in with your fingers. The citric acid in the juice will dissolve the heat stain, and the ash and steel wool will help rub it away.
4. Magic Mayo
Use a clean cloth to apply the mayo to the white heat marks—don't pour it on. Allow the mayo to sit on the table for several hours to work; if the stain is especially huge or obstinate, it can even be left on overnight. When you're finished, wipe the mayo off with a clean cloth to buff off the remaining stain. This approach can also be accomplished with petroleum jelly.
5. Baking Soda and Toothpaste
Make a paste with non-gel toothpaste and baking soda and apply it to stained wood furniture. Using a towel, wipe away any excess paste. This method may need to be repeated a few times for the best results.
6. Lemon oil
Apply a few drops of lemon oil on the wood and rub it in a back and forth motion, following the wood grain. You don't have to be concerned about fine-grade steel wool damaging the finish on your furniture.
7. Oxalic Acid
Mix some oxalic acid crystals with water and use a cotton swab to apply it to the stain on your wooden furniture. Allow it to rest for 20 to 30 minutes before wiping it off. If the stain persists, you may need to add more solutions. When it's gone, rub the stain with a mixture of 1 teaspoon baking soda and 1/2 cup water to neutralize it.
8. 2-Part Bleach
In a small container, combine your 2-part bleach and immediately dab the liquid onto the heat stain. Dab the stain with white vinegar after it has dried.Lastly, wet it to neutralise. Make sure you only rub it on the stain otherwise it may cause damage to other parts.
9. Car Wax
When normal furniture polish fails to remove water stains from wood, try a dab of auto wax. To apply the wax, trace the heat stain with your finger. Allow it to dry before buffing it with a soft cloth.
10. Wood Restoration
Heat stains can sometimes be too deep and stubborn to be removed using the procedures listed above. It is still possible to recover your wood furniture, but it will take more effort. You'll need to sand down the table's or other wood furniture's surface until the stain is gone. Once the stain has been cleaned, you must resurface the table with an oil or lacquer to protect and finish it.
11. Hydrogen Peroxide
Use only 3 percent hydrogen peroxide and pay attention to how the stain remover responds with your wood. Dampen a clean cloth and press the cloth firmly against the stain so that the hydrogen peroxide is absorbed into the wood. Overnight, leave the cloth on the stain. Remove the cloth in the morning and wipe the wood with a clean, moist cloth. If the stain isn't fully gone after the wood has dried, repeat the process. This process may need to be repeated multiple times until the stain is eradicated.
How to choose which method works best for you
When it comes to selecting a method on how to get white spots off wood table, look for the best method that suits your needs, there's a couple of things that you'd need to take into consideration.
If your method contains strong chemicals or maybe even vinegar, it could be harmful to the skin for some people. You should try to wear gloves and make sure not to get in contact with any chemical.
Some methods may come with a strong smell that can make certain individuals feel sick. If possible, try to opt for a method that has little to no such element involved like the basic towel and iron method.
Most importantly, you'd want to make sure that whatever method you are using it is wood-friendly. The last thing you'd want is to remove stains while also causing damage to your wood surfaces. Some methods might contain powerful chemicals and will effectively remove stains, but they'll also damage wooden surfaces. Others might cause coloration on your wooden surfaces – which isn't an ideal deal.
When Nothing Else Works!
There may be situations when the above-mentioned recommendations might become ineffective. The damage may have penetrated too deeply into the wood's pores, instead of being absorbed in the finish. In such a scenario, the wood will need to be refinished instead of just simply removing the stain.
Refinishing requires first removing the existing finish. This can be accomplished with either a chemical or mechanical finish remover. Chemical removers are convenient, but they're difficult to manage. If the finish on the top of the table merely needs to be removed, and the table has a carved or molded edge, the chemical remover will also destroy that finish. However, because of the uneven surface, removing that finish will be considerably more difficult.
The Obvious Solution
With the above-mentioned methods, we hope that you get the answer of how to remove heat stains from wood instantly and effectively. The apparent solution is to use coasters and trivets to prevent this from happening. Any coasters used for hot beverages or for cold drinks should be absorbent. Soft material on the bottom side, such as cork or felt, is recommended to avoid scratching the table's surface.
For whatever reason, these precautions have mostly fallen out of favor, possibly due to the fact that so many people now own furniture with non-damaged surfaces. Unless the vessel put on them is hot enough to burn the vinyl or laminate, a vinyl or laminate finish over the particleboard will not be damaged in the same way. Trivets can also help prevent this issue.