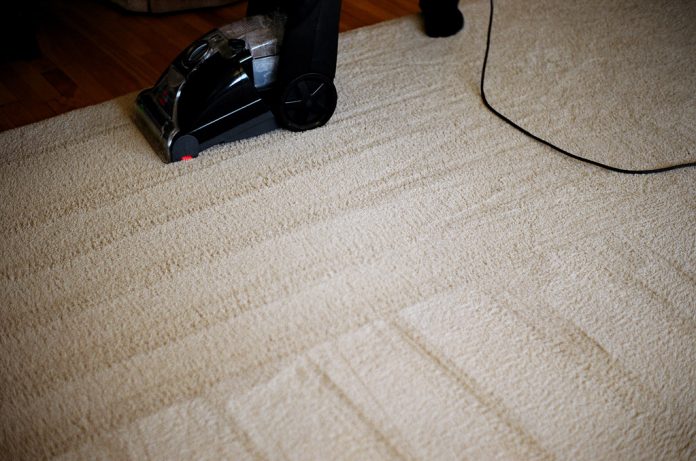 Many situations in life make you go "URGHH," and one of those is when you have grease on your bed or carpet that does not comes off easily.
It's frustrating when you know cleaning it will never work, and calling expert cleaners every time is not the solution at all.
Let's try to find a valid answer on how to get grease out of carpet easily and instantly?
How to Get Grease Out of Carpet – Useful Home Remedies to Use
There are some useful remedies you can use to get grease out of the carpet:
1. Baking Soda Treatment
Baking soda treatment is a reliable treatment that many tried and proved them successful. For this, you need to follow the mentioned steps.
Firstly, remove the excess grease from the carpet using a cloth or wet towel. This will disallow any more grease to soak into the carpet and will make your job easier.
Pour Baking Soda on the remaining:
Pour some amount of baking soda on the stain and give it a good time to absorb the stain. It depends on how long you keep the better result it gives.
It can be as less as one hour or as long as one whole night. The more it soak the grease, the cleaner the surface It gives.
Grab your vacuum cleaners:
Now once you left the soda to soak the grease, its time to see the magic. Suck all the powder using the vacuum cleaner.
Clean up all the baking soda from the carpet, and your carpet will be as clean as before.
2. Dish Wash and Wet Cloth
Removing solid grease from the carpet is not a big deal, real struggle starts when it gets stuck or absorbed inside the carpet.
First of all, you are required to get out all the solid grease using a toothbrush. Now pour dish soap on the stain and brush thoroughly.
Brush It until the stain is removed.
Then use a soft wet cloth to clean the soap and grease mixture followed by a dry cloth to dry the carpet. By this technique, you will get rid of all the grease in your carpet without getting the assistance of experts and wastage of money.
This method is said to be very reliable and effective and used by many people who faced this problem.
3. Salt and Rubbing Alcohol
Mix salt and rubbing alcohol into a paste. Use a damp cloth and dip into the mixture and rub it into the carpet to remove the grease.
Both of these mixtures help to get off the stain. The salts and alcohol have an absorbing quality that will help to get rid of stains easily.
Use the vacuum pump to get rid of the residue and get your carpet clean and tidy.
4. Corn Starch Spot Remover
Corn starch spot remover is the best used for this problem. Sprinkle some corn starch on the sponge and rub it over the stain until the grease is absorbed.
Rub them gently until the grease is removed and then use a vacuum to clean it.
5. Vinegar Degreaser
Using vinegar as a degreaser is an effective and wonderworking.
Vinegar contains degreasing properties that help to soak all from your carpet and helps to make it clean and tidy.
Pour drops of vinegar on the stain is very effective as the vinegar absorbs all of the greases and leaves a clean, tidy surface.
Related Questions:-
How long does it take for a grease stain to become permanent?
If the grease stain does not remove within 24 hours, it becomes permanent and hard to remove and take off.
The grease becomes very hard to remove, and you may need to give it a treatment.
How to remove engine grease from carpet?
Engine grease can be removed using the following method:
Take one cup of warm water with ¼ cup of mild liquid dish soap.
Dip and wet cloth in this solution and then put pressure on the grease stain.
Leave this mixture on the spill for five minutes.
A clean cloth can help to blot the stain.
Useful Tips
To make the procedure easy and more effective, you need to start the task on it immediately rather than dragging it, making the stain hard to remove.
For synthetic carpets, you can use some fluids like nail polish of lighter fluids that makes the process easier and safer.
Use cold water for rinsing the grease in the above remedies
Two different solutions can react differently, try to avoid unnecessary chemical reactions to protect the carpet.
As we know, wool carpets have soft fibers; they stay away from bleach or ammonia for safe cleaning.
Oriental carpet cleaning is impossible at home; we need to call professional experts.
How to get dried grease out of carpet?
Mix a small cup of hot water with ¼ cup of mild liquid dish soap.
Dip a piece of soft cloth in this solution and keep on the stain for some time to remove grease spots.
Leave the mixture for 5 minutes on the spill.
Use a soft clean cloth to remove the stain
How to get rid of black grease stains on the carpet?
The dish-washing mixture to the stain.
Properly use 5 mL of detergent with 1 L of hot water solution
Slowly rinses the area with a warm, damp towel to clean out the detergent.
Spot the area dry with a clean, colorfast towel.
Is it possible to remove old grease stains from carpet?
In some cases, it may be necessary to perform multiple treatments to remove old grease stains from carpets. Using a soft-bristled brush, apply a cleaning solution designed to remove grease stains from the stain. Rinse thoroughly with water and pat dry after allowing the solution to sit for several minutes. Repeat this process as needed.
Can professional carpet cleaning remove grease stains?
Yes, professional carpet cleaning can remove grease stains from the carpets. You should inform the cleaning technician about the specific stain so that they can use an appropriate method and cleaning solution. Additionally, it's advisable to have the stain treated as soon as possible to prevent it from setting in and becoming harder to remove.
To Wrap Up
Sometimes the problem applies seems too big to handle and solve, but some research and easy home remedies will help you get out of it very easily and simply.
What makes this even more interesting is that you get to find out many more solutions and remedy for other problems while you look for anyone of it. With the above-mentioned details, we hope you get the answer to your question on how to get grease out of the carpet.
It is hurting to see your favorite rug or carpet stained into grease patches and look dirty, so don't worry, just a few right ingredients and there you go with your clean and tidy carpet.
So, what are you waiting for? Instead of going to a carpet shop and spending so much money, just grab some items from your kitchen and solve your problem instantly.