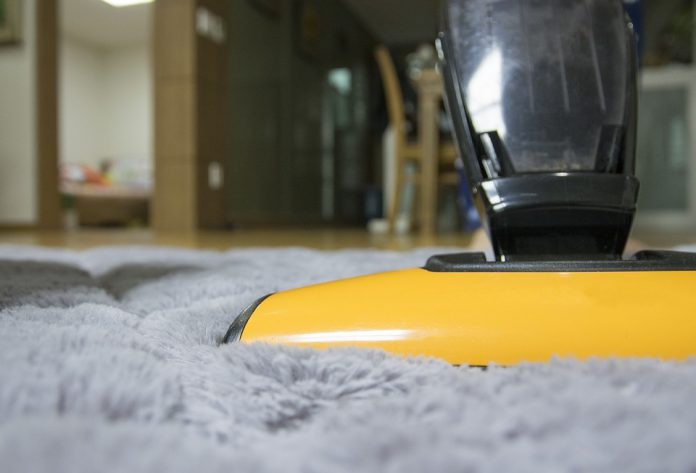 Dyeing hair is a common thing nowadays, and tons of people do it. With more and more people shunning hairdressers in favor of homemade methods, it's no strange that hair dye stains are becoming very common. The majority of people also dye their hair at home. So, it's necessary to know how to get hair dye out of carpet if it drops.
While dying your hair, you managed to spill a small or a lot on your carpet. Spilling hair dye on your carpet can be a nightmare. Removal of hair dye stains from carpet can be tough unless you are aware of it and know what things exactly you need to do at the right time.
As with most stains, acting early increases the chances of removing them. But if the stains are dried, it is much harder to get rid of. Removing hair dye from a carpet is hard but possible with the appropriate ingredients and techniques.
Before choosing any cleaning, you must consult your carpet care guide. Different carpet types and materials react in different ways so it's necessary to check the following methods are right and will not damage your flooring.
To help you remove hair dye from carpet, follow the below steps and recommendations:
How to get Hair Dye out of Carpet with Easy Steps
Step 1: Soak up any excess
First things first, use a clean, dry cloth to soak up the spilled hair dye from the carpet. Be sure to use the rag only for soaking the dye. Always dub the carpet, don't rub. Rubbing can cause damaging the carpet fibers and potentially be working the dye stain in further.
Step 2: Mix washing up white vinegar and liquid
Make your solution. Takes two cups of water at a warm temperature and pour it over the stain. Take one teaspoon of dish liquid and white vinegar of the same measurement.

Soak a white cloth in the solution and dub the area. Lift any excess dye product with a clean, dry cloth. Keep dabbing until the stain of the dye has been reduced correctly.
Step 3: Apply cold water
Now, the next step is gently to rinse the region with cold water and absorb any excess.
Step 4: Use of Sponge
Make use of a sponge to flaw the entire affected region so that it is not swamped anymore.
Step 5: Apply rubbing alcohol
Sponge with a minimal amount of rubbing alcohol and rub at the targeted region until the hair dye stain has disappeared. Then repeat the cold water step.
Step 6: Mix washing up liquid and ammonia
In case of persistent hair dye stain, mix one tbsp of washing up liquid and one tbsp of ammonia, and two cups of water. Before using this, need to know that ammonia may damage the wool carpets. Blot the area and let the mixture soak the dye stain and stay for half an hour. Keep adding more blends with a new cloth within the gap of five minutes. Then repeat the cold water step.
Step 7: Apply hydrogen peroxide
Hopefully, the above ammonia step will help significantly to reduce the stain, but for more troublesome and clean, try this step.

Carefully apply hydrogen peroxide to the targeted area, and only after thoroughly reading your carpet care instructions. Because not all carpets are bleach cleanable, if your carpet is bleach cleanable, then use a pipette to apply the hydrogen peroxide. You may need to use this many times.
Step 8: Use a vacuum to dry
After removal of the stain from the carpet, make use of a sponge or rag to absorb the remaining liquid. After drying the carpet naturally, dry it with a vacuum to bring the cloth of the carpet back to its normal state.

These are steps you can follow to get an answer on how do you get hair dye out of carpet
Here are some additional things to take care of your carpet.
How to Clean Carpet: Carpet Cleaning Tips
Even with your best efforts at cleanliness, still, your carpet will finally become the victim of spills, dye stains, drops, and whatever's on the bottom of your shoes. To learn how to handle and clean your carpet looking new, you can follow the useful strategies and tips for keeping your carpet looking new and fresh for a long time.

1. Vacuum Regularly

Vacuum your carpet at least once a week if your family is not messy. If you have children and pets, so you need to vacuum more regularly. Regular vacuuming will keep your carpets looking fresh and clean; it also removes hidden dust that will embed and damage the carpet fibers.

2. Blot the Carpet, Don't Rub

Rubbing makes a stain more difficult to remove. Continuously rubbing a stain also increases more chances of spreading into the enclosing carpet fibers.
3. Use a good stain remover

There are different ways you can use to make your stain remover, some possible ingredients that include white vinegar and baking powder. Don't use supermarket-bought local stain removers. They are responsible for damaging so many carpets and sofas.
4. Deal with spills quickly

If you don't have a homemade or a professional company stain remover to hand, then you need to place some paper towels over the stain.
5. Avoid excessive water

If you plan to clean a carpet, be careful not to overwater your carpets and avoid to use of excessive water. Use low water and ensure your house is sufficiently ventilated.
6. Quality mats

Do you always remove the shoes before entering your home, because your boots can contain soiled and dust? You need to buy the right quality mats for placement outside the doors. Maybe it sounds like a simple tip, but it makes a big difference in keeping your carpets fresh and clean and ensuring they last for a long.
7. Deep Clean Regularly

Cleaning the carpet is necessary to keep it looking fresh and new. Professional carpet cleaning enhances the life of quality carpets and saves you money. It helps improve the health of your house and reduce irritants.
These tips help you to clean your carpet professionally and quickly. You can follow the steps to completely understand how to get hair dye out of carpet without damaging it.