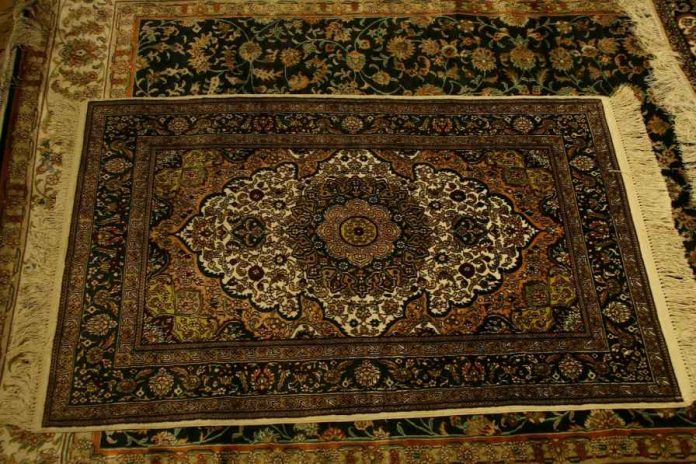 A high-quality rug area brings a room together. The perfect placement of a rug can transform your room from hiding stains and worn carpets to adding color and interest to your living space.
On hard surfaces like tile or wood, area rugs don't always compliment, and sometimes placing a rug on the carpet is the best way to enhance the appearance of your room.
The most common issue, when using a rug is to add interest and brighten to an already carpeted room and keep the rug right in place.
After having the perfect rug for your space, there is no need to think about how to keep rugs from sliding around and being the potential reason for causing accidents.
Just like hard surfaces, an area rug can also slip on your carpet. With the rug, the common problem is the rug bunching up, having minor slips and wrinkles. It is irritating to readjust.
Until and unless you need an extra workout of bending over to adjust the rug every time you pass, you might be thinking of ways to keep the rug in its proper position.
In this article, we will discuss how to keep rugs from sliding on carpet.
What defines something as being a rug?
We sometimes take things for granted. Someone asked us to explain the other day about what is the rug? So we decided to share some basic details with you.
The most basic definition of rug is a woven fabric used to cover some defined area of the floor. This is different from the term "carpet" which is typically fixed to the floor and is used to cover area wall-to-wall areas.
The origins of carpets and rugs are different, but the weaving method is mainly cross-cultural.
Generally speaking and for the most part, rugs are made on frames called rug looms.
So what is really the difference between a rug and a carpet?
We tend to use the terms rug and carpet. Technically, they mean the same thing, and actually, there is a difference between the two. Both mean a piece of thick cloth normally woven by using organic fibers like jute, cotton, wool, or silk. A carpet or a rug can also be made using synthetic materials and both are used as decoration in offices and homes globally.
There are numerous ways to create a carpet or a rug, how they look depends on the origin as well as when they are woven.
Why do rugs move on carpet?
It is easier to understand why a rug or runner moves around a lot on shiny and hard floors, however, you might think that the friction of carpeted surface keeps the rug in place, right? But unluckily, no.
The reason behind the creeping of mats, rugs, and carpets is the carpet pile itself. Naturally, rugs will move in the same direction as the pile present underneath them and the carpet pile moves whenever walked upon. As you walk over on a runner or a rug, the weight of this action moves through the rug into the carpet pile present beneath, which in turn will be pushed in a specific direction.
The runner or rug will have no choice but to move with it, causing a very slow movement of the whole rug with time. The plusher and longer the carpet pile, the more liable your rug is to move.
How to keep rugs from sliding on carpet?
Now we will discuss some ways to stop moving rugs on carpets and hard floors keeping the comfort and look, you love.
1. Rubber Waffle Rug Pads
They can be bought online or in the home improvement or home furnishing sections of large stores. They are thin and sold usually in pre-cut for common area-rug sizes. The rubber waffle rug pads are affordable and easy to install and keep the rugs in position on hard surface floors.
However, the pads do not add much padding to the rug and lose the gripping quality quickly as dirt and dust gather in the open grid pattern. Even they can damage floor finishing.
2. Rubberized Shelf Liner
The same rubberized shelf liner keeps the glasses and dishware in place and is used to keep a rug from slipping. It is less expensive as compared to the rubber waffle rug pads but much thinner.
The drawback is that it is usually available in 12-inch widths only. The shelf liner strips can be tapped, sewn, or glued together to create a larger pad.
3. Natural Rubber Pads
Usually, the natural rubber pads are created with solid grid surfaces that complement thin, flat-weave rugs. Naturally, it is made from rubber, and more expensive as compared to waffle rug pads but there are no chemicals that can affect floor finishes.
As rubber pads do not give much cushion, but they do provide excellent protection from slippage of the rug.
4. Felt Pads
These are available in a variety of thicknesses and are cur usually sized and cut to order. These add the most cushion and help prevent wear to the fibers. But they do not provide much protection from slipping unless the rug is large enough.
These are perfect for hardwood floors as they provide exceptional cushioning to the rug and the gripping quality of the rubber to prevent sliding or slippage.
5. Gripper Tape
Usually, it comes in a roll and is 2-3 inches wide. The tape is directly applied to the floor in an outline or grid that will fit the rug edges. Gripper tape is best for rugs that are 4 by 6 feet or small. For easier cleaning, the rug can be removed from the floor and repositioned.
6. Hook and Loop Anchors
These work like then closure on kids' shoes. Each anchor side has a sticky coating that is applied to either the rug or the floor. The two sides come together to form a strong bond that keeps the rug in place.
Conclusion
With the above-mentioned steps, we hope you've cleared your question that how to keep rugs from sliding on carpet. These solutions keep the rug from moving on a carpet and will effectively work, and you can always select an option you are comfortable with. Go for high quality whatever you decide to do. A heavy rug is the first option that will avoid most of these issues.