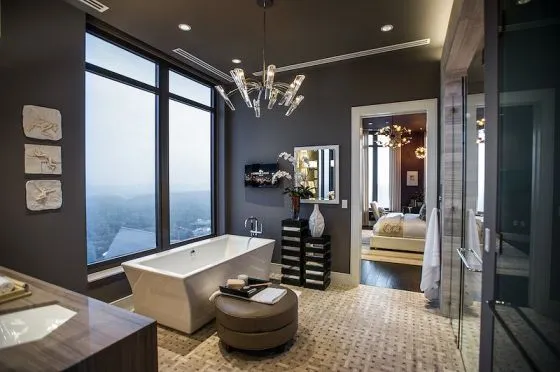 Are you seeking bathroom oasis ideas? With the correct design, you can turn your bathroom into a relaxing oasis.
From cozy textures and natural elements to spa-inspired features, there are plenty of dreamy design ideas that will bring serenity and sophistication to your home. Moreover, these design ideas are easy to incorporate and don't require you to break the bank.
To guide you, we will discuss some of the best dreamy design ideas to transform your bathroom into an oasis. Here are some simple suggestions:
Add a Touch of Nature
Whether you're aiming for zen vibes or simply want to bring a little bit of greenery into your life, this adds touches of nature to your bathroom and can make all the difference. From plants and wooden accents to stone features and cosy fireplaces, there are so many ways to transform your space into a soothing haven.
And if you really want to amp up the relaxation factor, try incorporating candles, essential oils, and scented soaps to create a spa-like atmosphere. Whether you're soaking in the tub or taking a quick shower, a nature-inspired bathroom is sure to make you feel more calm and centred.
Choose Warm Colour
Incorporate warmer hues, such as soft blues and greens, into your design. These colours evoke a feeling of calmness and create an attractive atmosphere that will make you linger. You can also replace your tiles with the color that you want. There are a lot of cheap tiles online that you can find, whether it is Hamptons, matte etc.
Also, you can try experimenting with wallpapers or different paint finishes to add texture and interest to your space and make it feel more comfortable. Plus, they're easy to customise and switch out whenever you want a change – perfect for adding an extra splash of personality to any room.
Install Smart Storage Solutions
When it comes to bathrooms, storage solutions are essential. You'll need somewhere to keep all those towels, toiletries and other bathroom necessities tidy yet easily accessible. Install custom cabinetry or floating shelves that match the decor of your bathroom and keep all your items organised.
In addition, why not add a few extra shelves to keep your favourite reading material within arm's reach? It's the perfect spot to unwind in the tub. This can give you the perfect place to store things like a loofah, your favourite soaps and lotions, and other spa goodies.
Incorporate Lighting
Lighting can immediately transform the look and feel of any room. To create a spa-like oasis, opt for ambient lighting rather than bright overhead lights. Use dimmers or motion sensors to set the mood and help you relax in your bathroom.
You can also include lamps, candles, fairy lights and other decorative pieces to further enhance the atmosphere. The soft glow from these sources creates an inviting and soothing atmosphere that will make you linger. Plus, you can always switch up your accents to make the space feel new and refreshed.
Add Wall Art
Adding wall art to your bathroom can be a great way to personalise it and make it more inviting. Whether you choose prints of nature, photographs, inspirational quotes or even wallpaper murals – pick something that speaks to you and helps create the atmosphere you're aiming for.
It's also a great way to add some colour to the space without overwhelming the senses. The right artwork can be the perfect finishing touch for your dreamy bathroom oasis. Plus, it'll make your time in the tub much more enjoyable. It can give you something to appreciate and admire.
Comfortable Accessories
Adding a few accessories here and there can make all the difference. A plush rug, soft towels and an inviting shower curtain are must-haves for any bathroom dreaming of becoming an oasis. Relax in your own home with high-quality items and luxurious materials.
Plus, these luxurious touches will create a timeless look that won't go out of style. To complete the experience, offer yourself essential oils, a diffuser, and scented candles.
Conclusion
The key to creating a dreamy bathroom oasis is to find items and pieces that speak to you. With the right combination of design elements, accessories and wall art, you can create a place where you can relax and unwind.
So take some time to experiment with different ideas until you get the perfect look for your space. Also, don't forget to consider the above ideas and make an effort to create the oasis of your dreams. Good luck!