A functional and efficient range hood is the key to maintaining proper ventilation and cleanliness of your kitchen. It gives a pleasant cooking environment no matter what you are cooking.
The best range hood should complement your kitchen design and style without being too intrusive or loud.
Today modern kitchens are equipped with a range hood, and without this major thing, you will suffer a lot of discomfort and inconvenience while cooking.
An under-cabinet cooking range hood is the most effective kitchen appliance to remove all the heat, grease, unwanted pollutants, and excessive fumes.
It's time to streamline your kitchen with the amazing and wide range of under cabinet range hoods. It becomes challenging to choose from the available options. So we are here to help and guide you choose the best option for your kitchen.
What is Range Hood?
A range hood is a kitchen appliance that hangs above or below the stove and is used to remove smoke, heat, and odors from the air.
What is an Under Cabinet Range Hood?
As the name suggests, an under cabinet range hood is the Installation of a hood directly below a cabinet.
An under cabinet range hood helps the Installation of your chimney under the cabinet right above the cooking area. The purpose of the range hood is to maintain the décor and looks of your kitchen area, and it is the best choice if there are prebuilt cabinets right above the cooking space.
It also helps to maintain the overall look of your kitchen and helps to provide proper ventilation and removes excess heat, smells, and smoke.
Some important terms to know beforehand
Before proceeding further toward kitchen hoods, some terms need to be understood.
Cubic Feet Per Minute (CFM)
It measures the flow of air. The volume helps to display the output rate of compressors. As the name suggests, it measures the air in cubic feet per minute.
For a range hood, the flow of the air should meet a minimum of 250 CFM. But, in the case of a commercial kitchen, you require a range hood of almost 350CFM.
With this power, it can remove enough steam and strong smells from your kitchen.
Sones Rating
Those who have an idea about sound must have a clear idea about sones rating. It indicates the sound of your fan and how quiet or loud your fan is.
So after the basic understanding, let's review some of the best kitchen range hood under cabinet that we've used and are worthy to consider.
Best Under Cabinet Range Hood
This is one of the top picks of an under-cabinet range. The specific model is 30-inch in size, whereas it also comes in 36-inch COS-QS90 and 48-inch COS-QS48 versions.
The filter type is always a point to consider, and this model has Arc Flow baffle filters. Stainless steel is used to make these filers and is very durable.
The best thing about this is it has control options like a touchscreen to control the speed of the fan and a backlit. It possesses four different levels of speed with wireless remote control. The model of range hood is also equipped with a built-in auto-shutoff timer.
The only drawback is the model is heavy, and 2-3 people are probably required for the Installation of this range hood, and you will need cabinet jacks definitely if you want to do it by yourself.
This is one of the top budget picks. The price of this model is less than $125, that is less compared to more premium models.
This specific range hood is designed perfectly, and the stainless steel provides a modern pro chef appearance that is loved by people.
The model has two simple rocker switches to control two levels of light and two speeds of the fan. The switches are present below the unit.
It also has an open mesh filter that is dishwasher friendly and covers the whole underside of the hood.
One of the great advantages is that it is equipped with an EZ1 installation system. The company claims that the hood can easily be installed even by one person.
A new technology called Capturwas introduced by Glacier, which helped the inlet of air away to the front side of the hood, so it effectively removes the air, which means less grease and less smoke.
The only drawback is that it has hard wiring. Unfortunately, you are unlucky if you want to plug it into an outlet that is present on the upper cabinet. You have to purchase a power cord adapter kit if you want to plug it in.
This model is also not equipped with light bulbs.
The most efficient solution to ventilate is the kitchen, with a combination of overhead lights and an exhaust fan present on the inner side of the cabinets.
The hood shows maximum performance with 375 CFM and 5.5 Sones for the removal of smoke and cooking smells from the air faster.
This model is the perfect option for budget-conscious and is 30-inches long.
Simply a single-intensity LEDs light lit by a single button. Make sure to illuminate the kitchen equally.
The range hood has adjustable fan speed with 3-speed push buttons.
It has dual one-piece dishwasher-safe open mesh grease filters to make sure cleaning is easy with normal capture of grease.
This range hood is another budget-friendly and excellent option with varied colors and styles like stainless steel, biscuit, black, white, and bisque.
The model has a replaceable charcoal filter that can be replaced easily when it becomes too greasy, leaving your kitchen clean and fresh.
The range hood is of premium quality with the insertion of stainless steel for the improvement of light above the ventilation and stove.
It is equipped with a ductless filtration system for the removal of odors and smoke from your home.
The 5-watt bulb has a protective lens for even light distribution throughout your vicinity. The range hood is versatile in case of speed and has a separate switch to control the speed of light and fan.
It has two installation processes, either with a power cord or a hardwired one.
This is a quiet and powerful range hood best option for your kitchen area. It can easily increase the power of suction up to 800 CFMs using signature with Power aerodynamic technologies and consumes less energy.
The noise level is low, like 37 dB, and the maximum static pressure is 350 psi making it the quietest cabinet range hood. You can say it is the quietest under cabinet range hood available in the market.
It also has the feature of an air management system that detects toxic fumes or organic gases automatically and expels them out of your area.
Stains, grease, and rust are controlled by food-grade stainless steel. It has a detachable capture shield and can be washed in the dishwasher.
The company also features a 55-year warranty with a three-year warranty on all components and 2 -a year warranty on labor and parts.
If you want an efficient and powerful range hood, then this is the best option under cabinet range hood. It has three levels of speed with 750 CFMS power and can handle anything; however, it is still a quiet option.
The range hood is durable and has a seamless, sleek design, and can easily fit in taller cabinets.
Moreover, the commercial grade stainless steel baffle filters are dishwasher safe.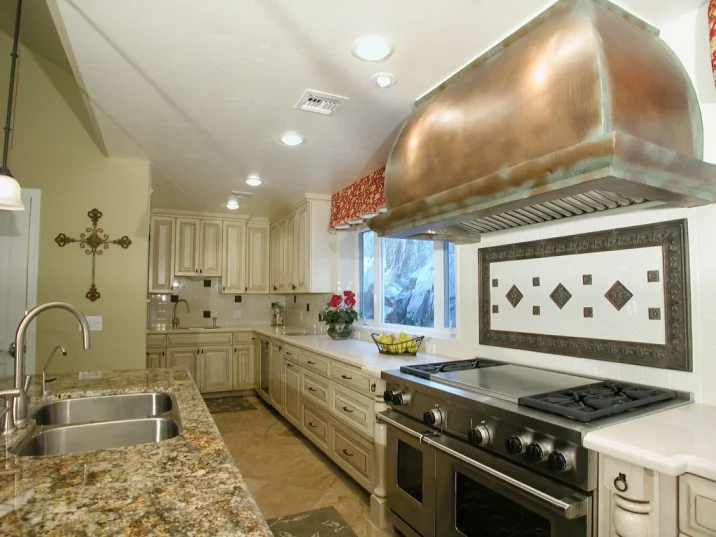 Buying Guide
A range hood is a requirement for any kitchen that has a stove or cooktop. The range hood circulates the air to vacate steam, fat, and smells. There are additional important types of range hoods:
Ducted range hoods
They are the most effective at ventilation because they use an exhaust fan to remove the contaminated air and send it outside.
Ducted range hoods are more expensive than the other types and require professional Installation.
Ductless range hoods
This also uses an exhaust fan, but the contaminated air is purified and recirculates back into the kitchen. These hoods are a budget-effective option as ducted range hoods, but they are not as useful at releasing pollutants from the air.
Convertible range hoods
They can be either ducted or ductless, depending on the Installation. Convertible range hoods are the most adaptable, but they are also the most costly.
When choosing a range hood, it is important to consider the dimensions and types of the hood, the CFM (cubic feet per minute) rating, the noise level, and the security. The size of the hood should be suitable for the measure of the stove or cooktop.
Under cabinet hoods
In this type, a mount is installed under the cabinet in the kitchen. The pipeline is fixed with the adjacent wall; no duct is outside the wall to disturb the outlook of the kitchen. If you choose the latest hoods, the advanced sliding option is also available. You can easily slide out when you need to remove the air. This system keeps all the steam and black smoke away from the cabinets and removes them safely with the help of suction.
Wall-mounted chimney hoods
If you have no cabinets in your kitchen and you want to install the hoods to release wall-mounted chimneys is the best option.
The noise level is important if the range hood is used in a kitchen that is adjacent to a living space. The warranty is important for any major appliance.
Best under cabinet hood Features that help to decide which range hood is better for your kitchen
These are the range hood features to consider before you go shopping.
Here are some features of range hoods mentioned. Just dive in a get the best suitable for you.
Airflow
The CFM rating specifies the volume of air that the range hood can transfer in one minute. The better CFM rating depicts a more useful range hood to remove pollutants from the air. If you find a range hood with better airflow, you will get better ventilation. It helps to capture smoke rapidly. According to the research and reviews, hoods with better airflow are recommended because they help to release the air quickly.
Exhaust Fan timer
This convenient feature turns off the fan after a set period of time.
This feature helps to turn off the exhaust fan right automatically. You need to set the timer according to your requirement and do whatever you want outside the kitchen.
Filters
Filters are a good option to keep the system clean and long-running. There are different types of filters available, like Charcoal, stainless steel, and aluminum mesh. If you are frequently cooking in your kitchen and hoods are removing black smoke daily, then you should replace or wash the filter every 2 or 3 months.
Charcoal filters are recommended options to remove black and smelly smoke from the air, but they require quick replacement than aluminum or stainless steel filters.
Aluminum filters are low efficient at eradicating smoke and smell, but they're comfortable to keep for a long time. These filters are not difficult to clean and maintain.
Fan speed
There are different fans installed in the hoods. We tested a variety of fans and found 3 to 6-speed levels. You need to change the speed according to the working and cooking in the kitchen. If a company develop fans with different range of speed, this option is best for you.
Size
Normally range hoods are available in different sizes, but the most common size is 30 to 66 inches. But you need to choose according to the space in your kitchen and also consider where you need to install the hood under the cabinets or over the cabinets.
Style
There are different models and styles available online and offline in the market. You can choose hoods according to the material may be copper, wood, zinc, and steel.
Thermostat control
Control of temperature can help to operate the hood efficiently. Some of the models come with the advanced feature of thermostat control. This feature sensor regulates the temperature level, which helps to prevent electronic devices from great damage. The exhaust fan comes to release the hot air easily from the kitchen and maintains the appropriate temperature.
Best Brands for range hoods
There are many factors to consider when purchasing a range hood. Cost, style, and Installation are just a few. But finding the best range hood for your home doesn't have to be difficult. In fact, we've done the hard work for you and compiled a list of the best range hoods on the market. From sleek and modern to traditional and classic, there's a range of hoods for everyone. And, we've got the inside scoop on the best brands of range hoods, so you can make an informed decision when shopping for your new appliance. Here are the best brands of range hoods, according to our experts.
BroanBroan
It is a leading name in range hoods, and for a good reason. Their products are well-made and designed to last. And they offer a wide variety of styles to choose from, so you're sure to find one that fits your kitchen's aesthetic.
KitchenAid
If you're looking for a high-end range hood, KitchenAid is the way to go. Their products are sleek and stylish, and they offer top-of-the-line features. But, you'll pay a premium for their range hoods.
GE
GE is a trusted name in appliances, and their range hoods are no exception. They offer a wide variety of styles and prices, so you would be confident to find one that fits your budget. And, their range hoods are backed by a reputation for quality.
Whirlpool
It is another important name in kitchen appliances, and its collection of hoods is well-made and designed to last. They offer an extensive variety of styles, so you're sure to find one that fits your kitchen's aesthetic. And, their prices are reasonable, making them a great value.
Frigidaire
This is a leading name in range hoods, and for a good reason. Their products are well-made and customizable. You can get the machine according to your requirement.
No matter what your budget or style, there's a range hood out there, that's perfect for your kitchen. And, with our list of the best brands of range hoods, you can easily find the best item for your kitchen.
Hauslane
This is a brand focusing mainly on range hoods. The renowned offer kitchen appliance and units specialized under cabinet to built-in range hoods. Hauslane range hood reviews depict the high quality of range hoods
FAQs
What is the best CFM rating for under cabinet range hood?
There is no definitive answer to this question as it depends on a number of factors, including the size of your kitchen, the type of range hood you are looking for, and your personal preferences. However, many experts recommend a range hood with a CFM of between 400 and 800 for under cabinet range hoods.
For the standard area of a house like 900 square feet,250CFM, and if you have a larger space like 2000 Square feet, 500- 600CFM is fine.
Is a higher CFM rating better for a range hood?
It depends on what you need the range hood for. If you need it to clear smoke and odors from cooking quickly, then a higher CFM range hood is better. However, if you are concerned about noise, then a lower CFM range hood might be a better option.
Is the Installation of a range hood really necessary?
A range hood is not a required kitchen application, but it is definitely useful. In a sense, you can say yes; a range hood is necessary to remove smoke, heat, and odors from the kitchen.
Why Trust Us
To provide authentic information and guidance, we conduct deep research and get different reviews about the range hoods. This guide is totally based on the conclusion we find from different users and market experiences. In this way, you will find the best under cabinet range hood according to your requirements.