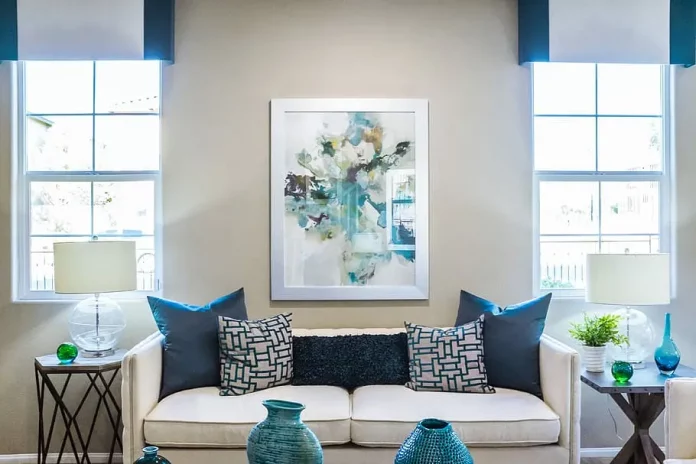 Bringing a true-blue Hamptons style into your home interior can instantly take any room to the next level of luxury and elegance. Whether you live steps away from the coast or hundreds of miles inland, recreating a coastal atmosphere in your own home captures the relaxed lifestyle of beachside living.
All without having to leave the comfort of your abode, from muted tones to rustic textures and vintage nautical accents. To help you, we will provide an overview of Hampton's style and how you can create that dreamy, coastal ambience for yourself. Read on to understand the basics of Hamptons style interior design.
Overview of Hamptons Style Interior Design
The Hamptons style of interior design is all about creating a chic, coastal atmosphere in your home. This look combines classic beachside elements like muted colours and natural textures with touches of vintage nautical flair for an overall polished and relaxing feel.
The goal is to create a space that feels airy and inviting without losing any cosy appeal. Plus, when you take the time to curate pieces that match your style, the Hamptons look can become truly unique. The designing interiors of this style always come with the aim of creating a classic and timeless look.
How to Create a Hamptons Style Interior Design
Now that you have an idea of what this coastal look is all about, let's dive into how to create it in your own home. Here are some essential elements for designing a truly dreamy Hamptons style interior:
Start With a Neutral Base
When it comes to bringing the Hamptons, look into your home; starting with a neutral base is the way to go. Think whites and greys – these cool, calming tones are the perfect backgrounds for introducing those bright punches of colour with furniture and accessories.
In addition, they'll keep everything light and airy. No one wants a cramped and cluttered space, after all. By keeping things neutral at the start, you'll be able to build on your vision for a clean and sophisticated Hamptons-inspired room.
Incorporate Natural Materials
Have you ever gone into a room and instantly felt peaceful and relaxed? It's amazing how certain textures and materials create such a soothing atmosphere. One of my favourite ways to achieve this is by incorporating natural materials, like woven rattan and jute.
These natural components provide a beachy atmosphere and warmth to any area. And if you want to up the cosy factor, layer in some wooden accents for a rustic touch. Adding natural components to your home decor will make you never want to leave.
Add Some Vintage Nautical Flair
Looking to add some vintage nautical flair to your coastal-themed space? It's amazing how a simple touch of nostalgia can transform a room and elevate its decor to the next level. Perhaps you could add a charming old-fashioned sailor's hat to bring classic charm to your space.
How about a vintage map of the coast to truly transport you to the seaside? With these iconic pieces, you can create a room that showcases your love for everything nautical and coastal. So set sail on your decorating journey and add some vintage treasures to your space.
Don't Forget the Colour
When you're going for the coastal decor vibe, don't forget the importance of colour. Soft blues, greens, and sandy browns are the way to go to complete the look. Whether it's a bold accent wall or small highlights throughout the space, these colours infuse the calming and serene feeling you want in a beach-themed home.
Imagine lounging on a comfy couch in your living room, surrounded by beachy colours that make you feel like you're in the sun. So embrace the water and sand colours and let them transport you to a serene paradise in your home.
Layer With Light Fabrics and Accessories
Add a little flair to your space with the simplest of tweaks- layering in light fabrics and accessories. To update your living room, you don't have to redecorate by simply adding in cotton and linen throws, pillows, curtains, rugs, and even wall hangings.
You can create a more detailed and textured space. The details make the difference. These lightweight items give your home dimension and cosiness. Next time you're looking to mix things up, try layering in some light fabrics and accessories for a quick and easy change.
Conclusion
Hamptons style interior design is all about creating a dreamy, coastal ambience. With the right pieces and the perfect colour palette, you can transform any room into a beach-inspired sanctuary.
So embrace all things nautical and make your space feel like a vacation every day. Also, don't forget to consider the above tips and start creating that dreamy look. Good luck!