Without a doubt, granite is one of the most popular natural countertops used in kitchens and bathrooms, especially in America. Granite colors are trending right now, and all this hype is justified because granite is easy to maintain, durable, and, most importantly, beautiful. Granite countertops and tiles etc., can add aesthetic value to your house. Moreover, as there are several different granite colors, you can easily pick one that matches your house's interior.
What Makes Granite So Popular?
One of the main reasons granite is a popular choice, especially in the construction realm, is that it's not man-made. In other words, you probably won't see the same granite countertop as you have in any other kitchen or bathroom. Second of all, granite is more durable and stronger than marble, which is why people prefer using it in their kitchens, bathrooms, and sometimes even for their walls.
There's a misconception about granite that it's the most expensive material for countertops, but the fact is that it's quite inexpensive as compared to other materials. Over the past few years, marble has become more expensive, so people have now started shifting to granite. There are more than 3000 granite colors available in the market, which means that no matter what style or design, or color you are looking for, you'll never run short of options.
Top 10 Most Popular Granite Colors
Choosing the right granite color can be a little overwhelming, especially because you have thousands of colors literally to choose from. If it's your first time buying granite countertops, you sure will find it hard. To cut down this hassle for you, today, we will jot down some of the most popular granite countertops colors that will work wonders for you.
Starting with:
1. Bianco Antico
You'll find Bianco Antico everywhere on the internet when looking for the best granite color. It makes sense because this color can add the kind of charm you want for your kitchen. It's white granite that comes from Brazil. If you look at it from a distance, it'll appear white and grey to you, but if you come close and try focusing on the details, you'll see traces of pink and brown too.
Adding this granite color to your kitchen will be the best decision, especially if white cabinets are installed. This way, the granite color will pop up without offsetting the room. On the other hand, if you are more of a contrast guy who likes to mix and match colors, then we'd suggest you use this granite with black cabinets in your kitchen. This way, your kitchen will stand out from the crowd.
2. Ivory Brown
Want to create a rustic look for your kitchen? Try the all-famous granite, Ivory Brown. It is a beige-colored stone with traces of red inside, and it comes straight from India, which makes it unique. One of the main reasons you should consider Ivory Brown is that it can go well with any kitchen. It doesn't matter if you have white cabinets or grey cabinets, or any other color. This granite will suit everything because of its basic beige color.
You can accomplish different kinds of looks using this granite. For example, if you want your kitchen to look more spacious and fresh, Ivory Brown with brown cabinets will be the best option. On the other hand, if you want a sharp look for your kitchen, we'd suggest you try beige cabinets with this granite. It'll be the best combination ever! The Ivory Brown slab contains multiple colors, including burgundy, peach, and a few clusters of quartz.
3. Crema Bordeaux
When it comes to one of the most beautiful granites, nothing can beat Cream Bordeaux. It's produced in Southern Brazil, and the best part about it is its resemblance to the planet Jupiter. This stone comes in various colors, including blue, pink, cream, brown, and even red. Due to the color variation, you'll see how every piece of this granite is different from the other one.
Choosing Crema Bordeaux will be a great decision as it can go along with all kinds of interiors of your kitchen and bathroom. It's quite a versatile granite, so no matter what the color of your cabinets is, this granite will bring out the best in your kitchen. However, as far as our suggestion is concerned, we'd recommend you put this granite with white cabinets as it has this appealing read that will pop up when contrasted with white.
4. Venetian Gold Granite
Venetian Gold is one of the most popular granite colors of all time as it comes with the shine and warmth of the sun, and it can make your kitchen feel more cozy and bright at the same time. If you want to add more visible value to your home and update the look, then using this Venetian gold granite can work wonders for you.
It comes in red and brown tones with a little shade of deep grey. However, these are the colors you'll see when you pay attention to the details. Overall, if you look at this granite from a distance, you'll see a mixture of gold and beige. As far as its perfect match is concerned, we'd suggest you try this granite if you have white kitchen cabinets or bathroom shelves. It can work for both your bathrooms and your kitchens without any hassle. Most importantly, with Venetian gold granite countertops, you can make any space look more luxurious and modern.
5. Delicatus White
Want something in contrast? Well, delicatus white is what you must try as it comes in a contrast of black and white colors. It's one of the most popular granite colors that can add aesthetic appeal to your kitchen, especially if you have black or any dark-colored cabinets. From a distance, this stone will appear white to you, but if you come a little closer, you'll see the beautiful combination of black and white that will fit any interior of any kitchen or bathroom.
It's all about paying attention to the details; that's what granite is famous for. If you look closely and check out the details, you'll even find a few traces of blue inside. With delicatus white, you won't have to worry much about the color of your cabinets because it can work well with everything, including white cabinets, beige cabinets, and even black cabinets. No matter the color of your cabinets, this granite countertop can make your kitchen all warm and cozy, just the way you like.
6. Tiger Skin
Just as the name tells, the tiger skin granite imitates a tiger's skin, and it comes straight from India. We'll be honest with you on this one that this granite color is a little unique, and some people don't go for it because it's just different from usual. However, if you plan to use it in your kitchen, you should know that it can be used for multiple projects with different finishes.
Furthermore, tiger skin is a great option for both your kitchen and your bathrooms. A tiger skin granite countertop can increase the value of your space like nothing else, and it would look great with dark-colored cabinets. If you have white or beige cabinets in your kitchen, we'd recommend that you don't use the Tiger skin countertops because the orange color in the granite will clash with the white cabinets. It's better to stick to natural colors for your kitchen and your bathroom if you want to have a tiger skin countertop in your house.
7. Steel Grey Granite
If grey is your favorite color, then you need to opt for the steel grey granite countertops because they'd look just great in any kitchen with any interior possible. This granite comes with an abundance of grey color, and with that, it has other lighter shades of grey in it that look gorgeous. A steel grey granite countertop will work wonders for your kitchen to stay cool during the hot summer heat.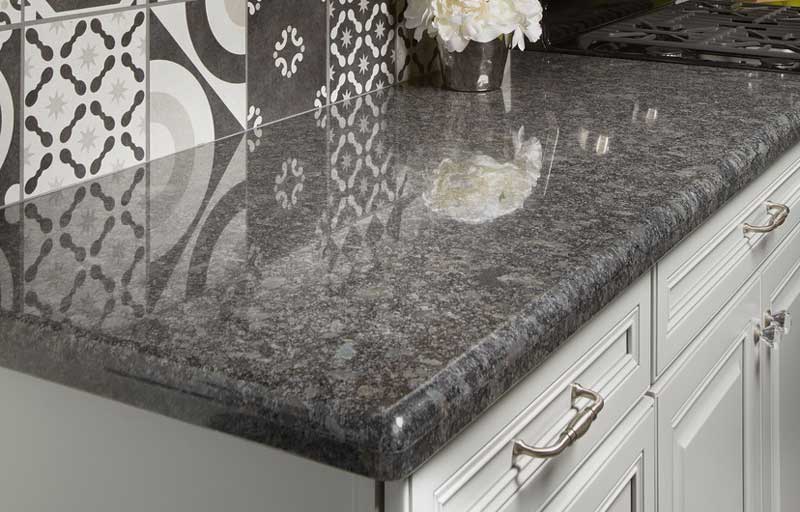 This granite is specifically for those who love a little mysterious dark grey look. Using traditional stone, you'll be able to create a contemporary look. As far as the mix and match are concerned, it would be best if you went for this granite with white cabinets. Black cabinets with a steel grey granite won't work out, and it would all look dark. You'll have to install a lot of light in your kitchen in such a situation, so it's better that you don't opt for it in the first place. Just some natural colored cabinets will work just fine with steel grey granite countertops.
8. Caravelas Gold
If you want to give your kitchen a luxury touch, then Caravelas Gold will be the best suitable option here. One of the best things about this granite color is that it can work with all kinds and colors of cabinets. Whether it's white, black, grey, or any other color of your cabinet, you can mix and match Caravelas Gold countertops with it easily. As far as the granite colors are concerned, it's more on the creamy, light brown side with black veining that looks stunning.
The details of this granite color are worth noticing because they are the main reason you get to add a luxurious appeal to your kitchen. Caravelas gold countertops can be used both in your kitchen and in your bathrooms. With such a great upgrade, we assure you that you'll be impressed with the result, and it definitely would change the entire look of your room.
9. Black Galaxy Granite
While we are on the subject of luxurious countertops, we can't help but mention the black galaxy granite. It's a premium granite color that can work wonders for any place in your house or office. Especially if you are looking for something valuable for your kitchen, we'd suggest you try the black galaxy granite right away. It's an overall black granite with hints of white and gold inside. These specks of gold specifically are best suitable to create a little dramatic look for your kitchen, and these specks range from tiny to easily noticeable pieces that you would enjoy.
Some of the most appealing characteristics of this granite color are; it's durable, it's easy to maintain, and most importantly, it comes with high moisture resistance, making it the perfect countertop for your kitchen. If you want some contrast, you can use this black granite countertop with white cabinets, and if not that, it will even work well with black-colored cabinets. In a nutshell, if you search for an elite granite color, the black galaxy granite is the one for you!
10. Blue Bahia
Last but not least, Blue Bahia is one of the most popular level 1 granite colors that will change the entire look of your kitchen or bathroom. In fact, if you want, you can even install Blue Bahia countertops in your office or wherever you feel the need to. It's one unique stone that comes straight from Brazil, and it's a little more expensive than the other granite colors we just mentioned above. But if the price is not an issue for you, we'd suggest you try the Blue Bahia countertops for your kitchen and see the result yourself.
This granite is a combination of blue mineral deposits, and at the same time, you'll find brown deposits in it. The only issue is that Blue Bahia doesn't mix well with white-colored cabinets, so you'll have to be a little careful here. It works well with medium colors like brown or other dark-colored cabinets will be fine too. Just don't opt for white cabinets and Blue Bahia countertops because they won't look good.
Things To Consider When Buying Granite Countertops
Now that you know about some of the best granite colors to choose from for your kitchen or bathroom countertops, it's time that you learn how to get the best value for your money out of them. For starters, granite countertops are the talk of the town because they are easy to maintain, and most importantly, they are durable. It's not just this, but they even look extremely elegant, especially if you pick the right colors.
To get the best value for your money, there are certain things you should consider when buying granite countertops:
1. The Size of Your Kitchen
To determine the right granite slab and color, you first need to consider how small or big your kitchen is. If you have a small kitchen, go for a basic or light-colored granite, but if it's huge, you can opt for darker colors for granite countertops.
2. Amount Of Lighting
Especially when it comes to your kitchen, the lighting matters! If you don't have any natural light coming in your kitchen and want to brighten up the space, then install some lights but with that, go for light, white, or gold-colored granite countertops. The brighter the countertops are, the more lively and bright your kitchen would appear. And in case your kitchen has a substantial amount of light, then choose colors like black, dark blue, or mahogany to get the best look.
3. Color
Just what today's topic is, the granite colors! The color is the most important thing when choosing a granite countertop, and you can't randomly pick one. Instead, you'll have to consider other elements like the color of the cabinets in your kitchen or the paint of the wall, etc. These things make a difference, and they'll help you decide what granite color will be best suitable for you.
4. Seller
You need to be careful about where you buy the granite from as there are many fake & unreliable granite sellers in the market. Therefore, when buying granite kitchen tops, enquire about the seller as much as you can to avoid wasting your hard-earned money. For this purpose, you can ask them for a list of their past clients and contact details. You must contact at least 3 previous customers as it can help you know whether the seller is genuine and reliable. Other than this, ask them if they can show you a recent installation that they have done. Seeing a live version will help you make a better decision.
Overall Verdict
Installing granite countertops or using granite for flooring, etc., is going to be the best decision you will make this year because it's trending. On top of everything else, granite will look great any place you install it in. It's just that you'll have to pick your granite colors wisely and ensure that they go well with the rest of the interior. Moreover, if you want to upgrade your house and add some value to it, then again, granite countertops and floorings, etc., will work out in your favor! However, please keep in mind the things to consider when buying granite countertops just above. Thank You and Good Luck.