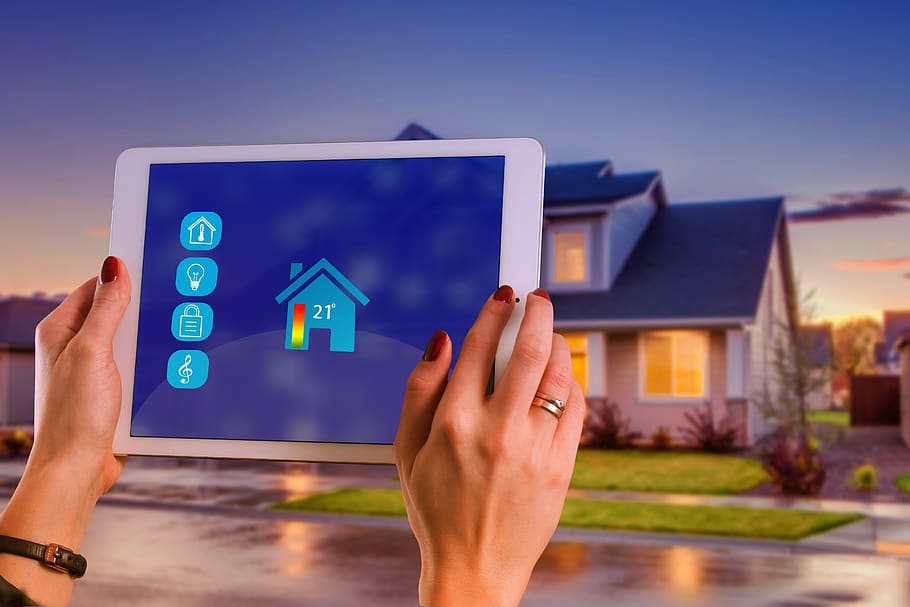 Automate your house with the best smart home devices.
Before moving forward to know the best smart home devices of 2021, it's important to know the details about smart technology and what things we have to consider.
What Is Smart Home Technology?
Basically, smart home technology is a general term used to describe home amenities that have been connected to communication technology, enabling some level of automation or remote control. They include things such as:
Appliances such as washing machines, refrigerators, and garage door openers
Entertainment systems for the home
Systems for protecting your home
Controls for the environment, such as heating, air conditioning, and lighting
Furthermore, some of these devices, such as ZigBee, Z-Wave, Lutron, and Wink, regulate and control all these devices. They're systems that allow you to access everything from one location and often come with some type of mobile app that allows you to access everything from any location in the house.
Smart home products range from temperature and lights to locks and home security devices. As a bonus, they also make awesome gifts, whether you're buying a housewarming present or shopping for the holidays.
You can control a home's smart environment from anywhere when you have a smart home device in place. It is very easy to turn off the lights, or turn off the heating when you are away from your house with just a few taps on your smartphone, even if you forget to switch them off. But to do that, you usually need a smart home hub. The best smart home devices make life easier as well as ensuring you have everything you need to live in a modern house.
To begin your journey into the smart home, begin with some of the best smart plugs and switches, and invest in some of the best smart lightings. Adding a smart speaker into the mix will also give you voice control.
Smart homes are becoming more popular every day. However, not all smart home devices are as reliable as they claim to be. Over the past couple of years, we have tested dozens of products across various categories, including the best home security cameras and the best smart light bulbs. We're here to help you determine whether a device is right for you if it can be controlled by an app or voice.
What to Consider for Best Smart Home Devices?
A virtual assistant preference is one of the most important things to consider before purchasing a connected home product.
Amazon Alexa and Google Assistant are two of the most popular smart home technologies today. Siri voice commands are supported by Apple HomeKit-enabled gadgets. In addition to being able to power on and off connected gadgets, virtual assistants can also operate them.
20 Smart Home Devices of 2021-2022
Our research and testing have led us to select the 20 Best smart home devices you'll love to have at home. Among these thoroughly scrutinized offerings, choose one (or a few) that best fits your lifestyle and needs.
1. Video Doorbell: Eufy Video Doorbell 2K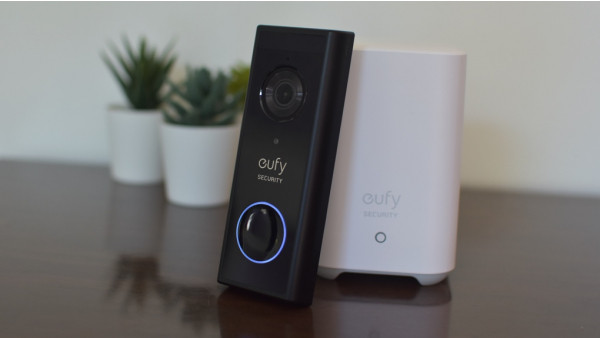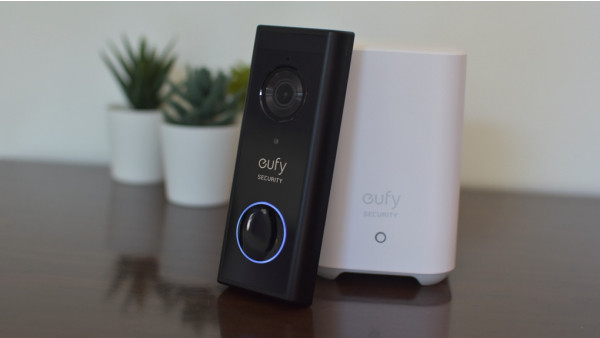 The best smart doorbell on the market is battery-powered and subscription-free.
With regards to its price, reliability, and performance, Eufy Video Doorbell is the best wireless smart doorbell camera available today. Due to its 2K recording, this system has extremely detailed footage, and it has a 4:3 aspect ratio, so you can view the person completely.
Batteries-powered doorbells are great if you're renting and can't remove the existing doorbell – it works wirelessly through the router, and you can simply throw it on the ground and leave it there for up to 6 months. For the best Eufy Video Doorbell 2K experience, there is no monthly subscription required. The bundled base station can hold up to 16GB of footage – equivalent to around two weeks of footage – instead of being stored securely on the internet. Having the ability to use Amazon Alexa and Google Assistant in conjunction with the app also makes things even better for smart home enthusiasts.
So after details about Eufy Video Doorbell 2K, should you buy it? The Eufy Video Doorbell is ideal for people who don't want to spend any money maintaining their system and prefer to control how/where their video is stored. Despite the lack of overhead costs, it gives you full control.
2. Amazon fourth-generation Echo
A brand new Echo is being released by Amazon for $100. It has some impressive features and it's a very good value. The Echo still reigns over the countertop with its sphere-like profile, powerful sound output, and a few modern features.
Google's Nest Audio speaker, which was also introduced in 2020, is a strong competitor with the Echo Dot, Apple's Mini HomePod functions well in the Apple ecosystem, but Amazon dominates in key categories. Aside from the more powerful speaker, it also includes a Zigbee receiver and Amazon Sidewalk Hub, making it much easier to connect devices such as locks and lightbulbs to Wi-Fi.
As of right now, Alexa and Google Assistant are running pretty close to one another.
Google Assistant's numbers also land in the tens of thousands, meaning you don't miss much either way. Amazon claims more skills and support for third-party devices for its voice assistant, while Google's numbers land in the tens of thousands as well.
Compared to earlier, tube-shaped Echo models, the new model has a rounded design. The sound quality of this smart speaker is the clear winner when compared to Google's Nest Audio and Apple's Homepod Mini.
3. Apple TV 4K(2021)
Provides a strong streaming experience in a compact, easy-to-use package
After a gap of 4 years, Apple has finally updated the original Apple TV 4K. In addition to updating the processor and remote control, Apple's new media streaming hardware contains some intriguing software features as well. Apple's hardware, however, comes at a higher price than its competitors. What do you think of Apple TV 4K? Check out Android Authority's review of Apple TV 4K (2021).
In addition to being the premier streaming player available today, Apple TV 4K is also the easiest way for you to set up your HomeKit system. Voice commands can be used to operate a variety of compatible home appliances through Siri. Virtual assistants and Apple Watches can be accessed in a variety of ways, including by pressing a button on the sleek remote control.
The Apple Home app, as well as the Command Center on your iPhone or iPad, can also be used to control connected products thanks to Apple HomeKit. Apple gadgets support the latter.
Additionally, the 2017 model has exactly the same ports. There is an Ethernet port, as well as an HDMI port and a power port. That's it. It is nice to have an Ethernet port since many streaming boxes use Wi-Fi only for internet connectivity.
Likewise, if you own a 4K television and are using the Apple TV HD, you should update to 4K. With the new Apple TV 4K, you will utilize your television set to its fullest. You have all the television sets, the content, and the streaming devices in place.
4. Security Camera – Arlo Q
With great video and generous free storage, you get many features.
In addition to a high-definition camera, the Arlo Q has motion detection sensors, a flexible scheduling mode, and excellent night vision. It's even better that you can review your video a week after recording it, just in case you misplaced something or want to check back for another reason. Our top pick among the best security cameras for homes is the Arlo Q.
It's not waterproof and needs to be plugged into a power outlet, but Arlo Q is the best camera for monitoring your house or apartment. You may want to subscribe to Arlo's cloud storage options if you wish to store videos over an extended period. You can choose among a variety of settings, including geofencing based on whether you are in the house, as well as regular time-based schedules, just like with the other Arlo cameras. As well as being able to choose either motion detection or sound detection, the camera can be configured to take notice of both.
We found the Arlo Q to be one of the most effective indoor security cameras we've tested. It is reliable, produces clear, sharp images day and night, and its seven-day free cloud storage is one of the most compelling features.
5. ConnectSense Smart Outlet 2
ConnectSense Smart Outlet 2 is a smart extension for coffee makers, lamps, and TVs, making them more efficient and convenient at home. Using an Android or iOS smartphone app, you can operate this dual-outlet smart plug through voice commands. Alexa, Google Assistant, and Siri are also supported. IFTTT isn't supported, but you can use HomeKit Scenes and Automations to make it work with other smart home devices, and it monitors the energy usage of both outlets.
With the updated Smart Outlet, ConnectSense has made several important improvements. With its identical size, appearance, and design, the Smart Outlet 2 remains true to its predecessor, though it now has Android support rather than iOS/HomeKit, as well as hooks that connect to Google Assistant and Alexa devices.
With support for all three major platforms, Smart Outlet 2 is a winner out of the box. It's a smart plug with a portable charger, a bunch of useful features, and reliable performance.
You can use the smart outlet to make a couple of appliances smarter and give HomeKit a try if you're set on trying it out. Some people may not find it a huge hassle to reset the outlet every so often given that the outlet can be controlled with Siri or an iPhone.
6. Smart light Bulb – Philips Hue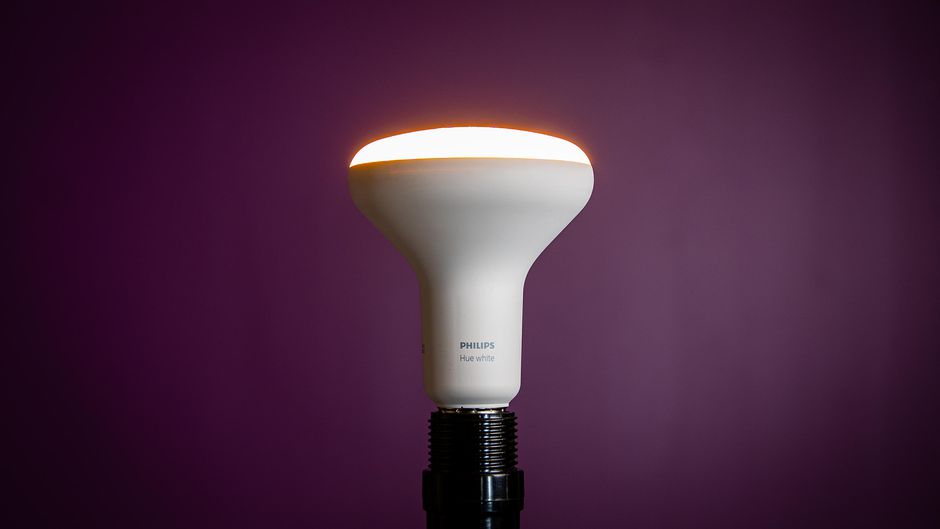 Smart bulbs have been around for a long time now, but Philips Hue remains a sturdy system that's ideal for houses with a lot of smart lights in various shapes and sizes, or if your lighting system needs to cover areas where Wi-Fi is not as reliable.
The first thing to do if you decide to turn your house into a smart home is to replace the light bulbs – an easier said than done task because there are many different types and sizes of bulbs. We think Philips Hue smart light bulbs are the best smart light bulbs out of all of them.
You will need the Philips Bridge to use Philips Hue bulbs. It serves as a kind of hub for your lights. The advantage of this system lies in its reliability, and in its compatibility with various standards and control systems, such as Apple HomeKit, Nest, and Samsung SmartThings. Utilizing the Philips Hue Bluetooth app, you can control your Philips Hue lights from your phone, dim them, change the colors, and choose preset scenes.
Philips Hue is constantly updating its range, which is one of the things we like most.
There is now a new selection of Edison-style smart bulbs available in the Philips Hue range, as well as the Lightstrip Plus, a smart light bar that produces special lighting effects while watching movies and playing games, as well as smart Edison-style bulbs.
7. Best Smart Display – Amazon Echo Show 8
Among Amazon's smart displays, the midtier model is the best. In addition to great audio quality, a highly visible screen, and an intriguing nod to privacy with a physical shutter that slides over its camera, the Echo Show 8 offers great value for $130. Still, we prefer the Nest Hub and Nest Hub Max for their interface. Additionally, Google Assistant displays offer voice-activated YouTube integration in the Google Assistant lineup, which Amazon doesn't offer. The Echo Show 8 is the best smart display, regardless of whether you're committed to the Alexa ecosystem.
Compared to the smaller Echo Show 5, the Sound Quality of Show 8 is much better than that of the 1.7-inch speaker on Show 5. If you keep the volume in the middle of the range of Show 8, it produces somewhat similar results to the most recent Alexa smart speaker.
You might just find that the Show 8 is the best smart display for the price if you're thinking of buying one. Its full price tag is $130, but its frequent discounts (currently only $65 for the US, and £90 for the UK) make it even more attractive.
8. Best Thermostat – Ecobee SmartThermostat
Smart thermostats are becoming increasingly popular, but we find that their true power lies in their remote sensors.
The fifth-generation Ecobee SmartThermostat has all the features we love about its predecessor, which includes Alexa and a touchscreen interface. It also features a remote sensor that makes sure that all the rooms of your house are heated or cooled appropriately. However, the latest version comes with a better speaker, so you can actually use it to play music, use Alexa features (including Drop-In and messaging), and integrate Spotify. Moreover, the remote sensor's battery lasts longer and has a bigger range.
In terms of audio quality, the Ecobee can't compete with the Echo Dot, but it is a clever way to equip a room with Alexa without plugging in another smart speaker. Our top choice of all smart thermostats is Ecobee because it is one of the best smart home devices you can buy. Due to its beefier speaker, the Ecobee SmartThermostat makes for a passable entertainment device.
Ecobee4 didn't support Alexa messaging, calling, or Drop-In like most third-party Alexa devices. All of those features are included in the new Ecobee SmartThermostat. I see that as a positive development, making it more practical for calling the family to dinner.
9. Best Mesh Router – Google Nest Wifi
It is important to make sure you have Wi-Fi once you start spreading smart lights, smart plugs, and smart speakers throughout the house. The connected doodads will be of no use if they cannot connect.
For those reasons, mesh routers that spread a strong, speedy signal throughout a huge house can be a great investment. In our tests, we've found the Nest Wifi to be the most reliable. As we moved around the 5,800 square foot CNET Smart Home conducting speed test after speed test, the $269 two-piece starter kit never dropped our connection as we conducted speed tests after speed tests. Moreover, this range extender also doubles as a smart speaker, so you can expand the footprint of Google Assistant across your house as you spread a reliable connection.
Despite the lack of support for Wi-Fi 6, and unless you're already paying for super-fast internet speeds of 500 Mbps or more, you won't notice any difference in performance between Wi-Fi 6 and Nest Wifi. Installing Nest Wifi is easy, and you can control your network from the Google Home app alongside your smart home features. There are also advanced features like device prioritization and WPA3 security.
10. Home Security System – SimpliSafe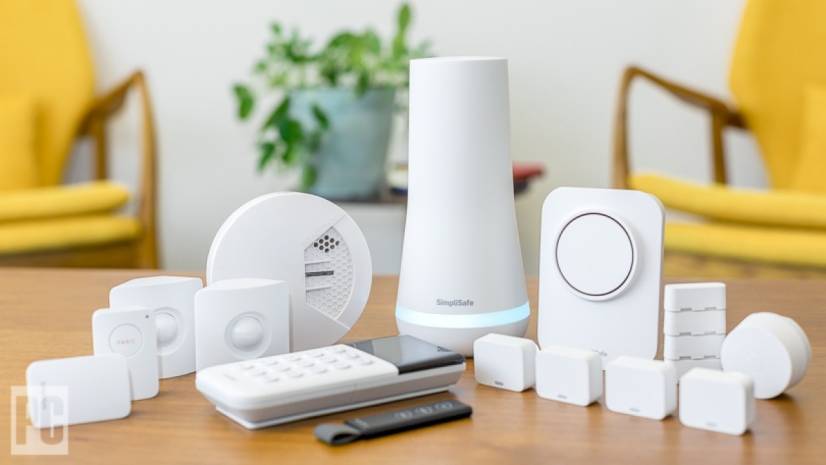 The SimpleSafe DIY security system is relatively inexpensive, easy to install, and does not require a long-term commitment. It offers a small selection of integrated smart home equipment, which should satisfy most homeowners looking for an affordable DIY security system.
It sits in the sweet spot between a basic self-monitored DIY security system and an installation and monitoring provided by a professional company. Your home can be protected against intruders, fires, and floods with the system, which is easy to install and use. I appreciate the ease of use and ease of monitoring it provides. It gives you the option to monitor your home remotely with or without a monthly service plan (or both).
The monitoring center is able to visually verify and respond to alarms triggered by that company's two cameras, the SimpliCam camera, and Video Doorbell Pro. With SimpliSafe door locks, keypads hold codes to disable the alarm whenever they are entered, and each member of the household can be given their own code. The home security systems offered by SimpliSafe are easy to use and install, as well as relatively affordable. In addition to remote monitoring, SimpliSafe's reviews praise its customer service.
11. Smart Thermostat with Voice Control – Ecobee
The company's fifth-generation Ecobee smart thermostat provides more features than its predecessors, as is the case with every Ecobee release. These and more features of this thermostat are but a few of what it has to offer, including enhanced Alexa support and multimedia components. Ecobee Smart Thermostat contains multiple features like smart home connectivity, good external and internal product design. Featuring easy installation, a user-friendly app, and a variety of third-party support, this is one of the best smart thermostats on the market.
By using a stronger speaker, acoustic echo cancellation, dual-band Wi-Fi radios, and support for numerous third-party smart devices and platforms, like Amazon Alexa and Apple's HomeKit, Ecobee smart thermostats improve upon their previous generations. Depending on your budget, $249 may seem steep, but you'd have a hard time finding another thermostat that offers this much functionality.
A comfort advisor or heating & cooling specialist can help you determine if the Ecobee 5 is the right smart thermostat for you if you don't have a smart thermostat or were planning to switch from a Nest to one that supports HomeKit.
12. Smart Plug – Belkin WeMo Insight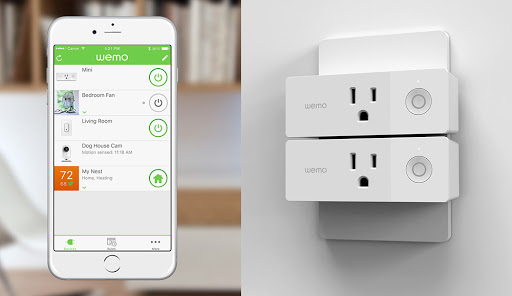 The best smart plug for monitoring energy usage.
This smart plug has more to offer than controlling devices plugged into it. Additionally, you can use it to monitor your energy usage and get an estimate of how much it would cost to power your home's appliances.
Among the many uses of the WeMo Insight are lamps, heaters, fans, refrigerators, and others. You don't need a hub for it since it connects to your WiFi network fast and easily. Your home can be lit up by this smart plug from your office. Besides checking whether all devices are turned off, it also allows you to control home appliances through voice commands. Real-time monitoring of energy consumption is also possible.
If you're looking to save money and be more eco-friendly, this is a must for you. In spite of the plug's bulkiness, you may be able to live with it if you can save money on your energy bill each month.
The Belkin WeMo Insight Smart Plug could use some tweaking, but overall we have been thoroughly impressed with it. The device can also connect to a wide range of smart home platforms, including IFTTT, Amazon Alexa, Google Assistant, and Samsung SmartThings (unofficially).
13. August Smart Lock Pro – Best Smart Lock
Though bulky and expensive, this is worth every penny.
As smart homes become more sophisticated, not everyone is willing to completely replace their outdated systems. Many smart locks have keypads or new keyholes designed to replace your old lock, but some people want to keep the capability of using their older keys. In addition to being August's first embedded Wi-Fi smart lock, it is also the company's smallest model to date. Along with Amazon Alexa and Apple HomeKit, it also supports Google Assistant and a variety of other third-party platforms and devices, building on its predecessors' success.
August smart locks provide a solution for this problem. The August Smart Lock Pro replaces your existing deadbolt with a smart lock and allows you to still use your old key when you or some other member want to while also reaping the benefits of a smarter lock.
It's one of the best smart home devices and I highly recommend the August Smart Lock Pro for renters, people who prefer using a key, and individuals who just want the easiest-to-install, relatively well-designed lock on the market.
14. Nest Protect – Smart Smoke Detector
Your phone will alert you of an emergency anywhere you are.
As far as smart smoke detectors are concerned, Nest Protect stands out. As soon as something is detected in the air, you'll receive an alert with information about which room was the source. In addition, the alarm's LED ring changes color in the case of an emergency so you and the people you live with will be able to see if there's a problem.
Smart smoke alarms from Nest can connect to the rest of your smart home. Nest not only makes great smart thermostats but also makes great smart home security products. Besides its stunning looks, the Nest Protect offers great WiFi and IFTTT connectivity.
Regardless of where you are, Nest Protect will notify you if there is a fire. You can also download the accompanying app, which you're likely to never use, but is well designed and easy to use.
You might want to know what are the reasons to buy Nest Protect, so here are some reasons. It's a very subtle design, works well with other Nest Products, and has easy installation.
15. Wyze Bulb Color – Smart Lighting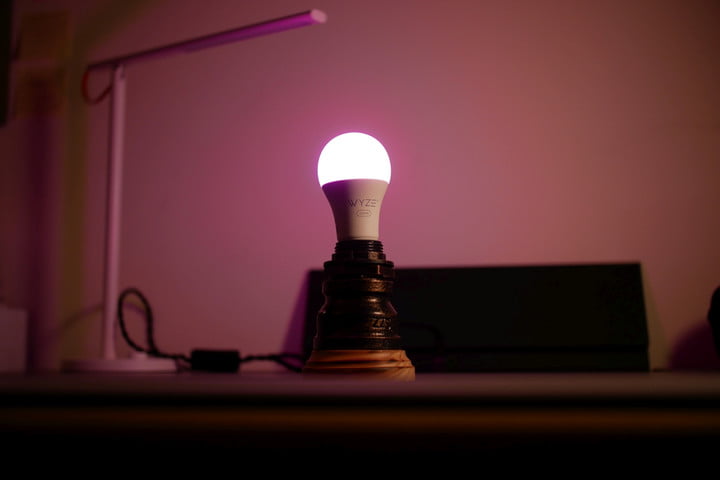 Wyze Bulb Color, with a pack of four for $39.99, is the most affordable color smart bulb testable. Your phone can control the device without a hub, and you can use Alexa and Google Assistant to control it with your voice. With ample smart features for the price, these features include support for custom scenes, automation that are triggered by devices, and sleep routines that help you prepare for a peaceful night's sleep.
Bulb Color is bundled in a four-pack and has Wi-Fi and Bluetooth capabilities. It has features that most other color smart bulbs do not, such as sleep/wake routines and vacation mode. Also, the Wyze bulb has an unusually bright light output for its price, while the streamlined, intuitive Wyze app makes grouping multiple bulbs a breeze.
Overall, given its price tag, Wyze Bulb Colour ticks a number of boxes well. This is simply the best smart light bulb you can find at this price.
In addition to connected countertop ovens, there are also microwave-sized smart appliances that are capable of baking, broiling, searing, reheating and many other kinds of food preparation. One of the most advanced and expensive ovens we have tested is the Brava Oven. Ten different ways can be used to cook food, and it also features a built-in camera that lets you watch the food cook on your smartphone while it cooks.
One of the best smart home devices – the Brava is a quick and convenient oven for those who like high-tech gadgets or prefer a countertop model to a full-size one. Cooking with it certainly eliminates a lot of guesswork and could be useful for beginners. Make sure you keep your full-size oven. You'll need it to roast a turkey and bake plenty of cookies. Despite its sizes, the Bravo may not be big enough to be the only oven you need; it cannot bake a whole turkey, a full-size pizza, or a baking sheet of cookies. The Brava is incredibly versatile, fun, and cost-effective but worth the investment if you can afford it.
17. Worx Landroid M 20V
In spite of its high price, the Worx Landroid M 20V Cordless Robotic Lawn Mower (WR140) makes mowing and trimming your lawn easy and effective. GPS and Wi-Fi radios are also built into the machine, and you can control it through a mobile app. Besides letting you start and stop the mower and adjust cutting schedules, the app lets you monitor the mower's progress and emails status updates so you know how it is doing and if anything is wrong. You can even use it to find your mower in case someone takes it off your property.
Approximately $1,199.96 will get you the Landroid M 20V cordless robotic lawn mower with GPS, as well as a three-year warranty. The mower is available for $959.97 USD from WORX, which can be paid either in one lump sum payment or 4 installment payments of $239.99 USD. We'll be reviewing this product at that time.
18. Arlo Pro 3 Floodlight Camera
A floodlight camera that's best for outdoor use.
This spring, the best-in-class maker of security cameras released a floodlight camera. Arlo Cameras in general have all the things we like: long-lasting batteries, HD video, mounting hardware that's easy to use, flexible, and compatible with all three major voice platforms.
All of this is completed by Arlo's inclusion of the most powerful LED lighting array in its category, leaving Ring and other competitors in the dark. 2,000 lumens of light (3,000 with the Outdoor Charging Cable) can light up your whole backyard if you need that much power. The lamp can also be dimmed, which is useful if you want to get along with your neighbors.
If you are a DIY homeowner wanting to monitor activity on the outside of your home, the Arlo Pro 3 Floodlight Camera is an excellent choice. This wireless camera delivers sharp, full-color night vision and complete wireless functionality. Alexa streaming commands and interaction with IFTTT devices work seamlessly, as well as motion alerts arriving quickly and zoom and tracking capabilities. If you want to view recorded video or use advanced features, you have to subscribe to an Arlo Smart Plan.
19. Shark Ion R85
Best Robot vacuum for keeping your floors clean with limited effort.
A great robot vacuum is the Shark Ion R85. It's a great pick-up robot that helps you clean as much as possible without a lot of fuss. During testing, the robot vacuum took about two hours on average to finish the entire run. What's our advice? Once it starts, you can leave the house to complete chores. The dust bin of the R85 is easy to empty – not something that is expected with most robot vacuums – and the charging base is also optionally available as a stick vacuum.
This robot vacuum has good performance in pet hairs, the dustbin is either super easy to clean and it has an easy app setup and notifications. We enjoyed the notifications that the Shark Ion 85 sent to our smartphones, as well as the ability to control it with our smartphones. Moreover, it works with both Alexa and Google Assistant, meaning you can integrate it into your smart home routines or ask for cleaning with your voice.
20. Peloton Bike+ – Smart Health & Fitness Device
In addition to the Peloton Bike+'s digitized Auto Follow resistance system, it features a device that adjusts your resistance on-demand, so you can focus on your performance and outperforming your peers instead of adjusting knobs. Together with an improved sound system, this feature provides a more immersive cycling experience at home than ever before. The rotating touchscreen, Apple GymKit integration, and Apple Watch pairing make the Bike+ a significant upgrade over the previous bike, which was introduced six years ago.
Exercise equipment like Peloton's Bike+ (and the company's original Bike) is popular because they provide effective cardio workouts, are incredibly convenient, and enable people of all fitness levels to stay in shape.
While the device isn't cheap, and the recurring $40 per month charge for unlimited access to its wide range of apps adds to that, it has been well worth it.
Is my house smart? What do I need to do it?
In order to build your smart home, it pays to decide what kind of smart home system and best smart home devices you want to use first. A number of products are available, such as Apple HomeKit, Google Home/Google Assistant, Samsung SmartThings, Amazon's Alexa platform, the IFTTT platform, ZigBee, and Z-Wave. Keep in mind that if you are already plugged into a system, it might make sense to stay there.
The amount of money you invest in your smart home is completely up to you, and it can be customized to meet your personal needs. There are a number of devices available today — for example, smart light and a home security camera that will switch on if a potential intruder is detected, hopefully scaring him off.