Many people nowadays can't start their day without sipping through a cup of espresso coffee. It's been an essential drink for all. Not just working men and women, but even students can't focus enough without drinking a cup of coffee and so they rush to the nearest coffee shop. Now, think about yourself. You want to wake up fresh every morning but don't want to drive to the café to get that perfectly brewed flavor-bursting coffee. Right?
You need to invest in the best super automatic espresso machine; however, finding the right one is a complicated job. There are so many options in the market, so we've written a detailed review of the eight best automatic espresso machines so you can make a perfect choice for yourself.
Let's dig into the details!
Beautiful, compact, and meticulous design, Dinamica is De'Longhi's new line of the best fully automatic espresso machines. It comes with De'Longhi's technical expertise and can transform your kitchen into a smart café.
The Dinamica line has 4 models, but the launch of ECAM35075SI replaces all outdated models that's why it is considered the best super-automatic espresso machine of 2020.
Operation is more touch-sensitive than in older models. If you have a small kitchen then this coffee maker could be your best choice because the water tank is easily inserted from the side, making access convenient for all.
Moreover, the espresso machine allows you to customize drinks to your preference. For example, you can adjust the strength of the drinks, select your favorite recipes, grind size etc.
The ECAM35075SI has 18 of your favorite specialties like espresso, latte, iced coffee cappuccino, flat white, ristretto, and more. There are six buttons to select your best recipe. Just press a button and your drink in ready. Likewise, there are two buttons, "Drink Menu" and "My Menu" to prepare additional recipes, each having its own programs and capabilities.
Pros
Compact and elegant design with LCD display.
18 espresso plus specialty coffee recipes get ready in a simple touch of a button.
Built-in conical burr grinder for always freshly ground coffee.
Convenient to fill the water tank.
Personalization of favorite recipes with the My Menu option.
The pre-wetting function helps develop the correct flavor.
Automatic and adjustable milk frothing––LatteCrema System produces textured steamed milk lattes and cappuccinos.
Authentic, patented brewing unit, and Dual Thermoblock System.
Improved noise isolation compared to previous models.
*Frothing quality will depend on the type of milk selected. De'Longhi recommends both dairy (2%) and non-dairy milk––oat, rice, or soy milk.
Cons
The Philips 3200 Series has an intuitive design, also called LatteGo. It is the best automatic latte and cappuccino maker that prepares yummy drinks with just one press button. In total, you will get 6 buttons, one for hot water and the other five for your favorite aromatic coffee drinks: cappuccino, coffee, latte macchiato, espresso, and Americano.
Pros
Stylish design
Best for lattes and cappuccinos
The ceramic coffee grinder grinds coffee beans evenly–the key to delicious coffee.
Some parts of the machine are dishwasher-safe.
Easy to set up and clean in as little as 15 seconds
Tells you when to discard the used coffee–– and reminds you when it's time to wash the machine.
Philips claims this automatic latte maker will last for 20,000 cups.
*The quality of your coffee drink depends on the type of milk you use. If your milk consistency is not accurate, it will affect your froth's quality. Likewise, the quality of the foam also depends on the temperature of the milk.
We recommend using 3 to 4.8 percent pasteurized or ultra-pasteurized milk or you can also use lactose-free milk. But always use refrigerated milk.
Cons
The only serious drawback of this best home espresso machine is that it is very noisy.
Gaggia Brera is an awesome machine in terms of price, which is hard to beat these days. However, it isn't fully automatic as you have to steam milk manually. But there's no problem with steaming manually as many coffee lovers are using it for ages.
This coffee maker is best for those who are looking to explore a bit with milk but need the ease of a super automatic. You can make Americanos or milk coffees perfectly but it makes espressos too.
Pros
Stylish design
Great for making milk-based drinks
This best semi automatic espresso machine has stainless steel Panarello steam wand that gives you excellent steamed milk for lattes, cappuccinos, or hot chocolate.
Easy to clean under the tap
Affordable and compact compared to other machines with similar features.
Cons
It is a bit noisy.
The hardware isn't of high quality, and of course, that is reflected in the price tag.
The BES990BSS is a premium choice for coffee lovers. If you are looking for the best super automatic espresso machines that deliver you the highest quality espresso, this Breville model with Oracle Touch must be your choice. Trust us; no other commercial super automatic espresso machine competes for the taste of coffee like it.
This coffee machine has increased functionality, but you have to pay for it. The Oracle Touch option fully automates the coffee preparation process from start to end which sets it apart from other super automatic espresso machines.
The BES990BSS model has a water boiler, a steam boiler, and a brewing unit. This helps speed up the process of coffee preparation, allowing you to prepare both espresso and Americano simultaneously. Moreover, the brew unit and digital temperature feature control the heating level optimally so that you enjoy the perfect coffee's taste and aroma.
The BES990BSS coffee grinder outperforms other best super automatic espresso machines––has 45 grind size choices––the largest figure among its competitors.
Moreover, there are six drinks pre-programmed: latte, flat white, espresso, americano cappuccino, and steamed milk. Choose anything you like as you can also save the six best recipes and start brewing with one touch.
Pros
The well-equipped professional model with attractive design.
It has a touch-screen display. The Oracle Touch is super easy to operate.
You can select a drink and make your own recipe.
It offers 45 grind size choices––the highest of others espresso machines.
It has three heating elements for a faster process.
Best for both home and commercial purposes.
Cons
5.

Jura E8

– Best automatic espresso machine
At first glance, you will notice Jura E8's best design and its elegance. Besides, it allows you to prepare a variety of 16 coffee drinks in one go. The drink options include flat white, espresso, cappuccino, and latte macchiato. The special part about this machine is that to prepare a flat white drink, first, it pours the coffee, and then layers of frothed milk. This best super automatic espresso machine won the Red Dot Design Award because no other machine has complete it yet.
The preparation process for a cappuccino coffee drink is fully automatic. If you love the fast preparation of your favorite drink, this machine is a great choice.
Conveniently, this model flushes its milk nozzle automatically. This is a rare feature among other best super-automatic espresso machines as you have to do it manually. If you're looking for Jura coffee machine reviews, so here are some pros and cons.
It's also super programmable––with a simple-to-use TFT control panel. When choosing "Expert Mode," you can control everything like the amount of milk you used, shot temperature, etc. Moreover, the grinder is of high-quality and makes no noise, helping you get the best drink. Last but not least, Jura E8 offers 12 ready-made coffee drinks.
Pros
Attractive design as compared to other best jura espresso machines
Has a 2.8-inch color display––– provides detail and easy settings
Preparation of high-quality espresso drinks––get 16 drinks with a single button
Automatic flushing of the nozzle after the last drink
Cons
High price
Fixed infuser lengthens and complicates the cleaning process
This Super Automatic Espresso Machine allows you to select one of 15 delicious drinks. Besides, you can customize it according to your taste. Let's suppose, you're entertaining friends who are coffee lovers – cappuccino, flat white, double espresso, and baby cappuccino all have different tastes– and your friends want them all right now. There's no best choice other than buying the Saeco PicoBaristo coffee machine as it's also a touch screen coffee machine.
Not only it delivers delicious coffee but its quick-heat boiler technology allows quick preparation, so you can quickly brew one cup after another.
Pros
Automatic milk preparation system
Advanced touch screen display
Allows you to make 15 Drinks with a one-touch menu
Huge water tank capacity
The average heat up time is 105 sec which is quite good
Brew group: Removable
Easy cleaning. Also, the milk frother is dishwasher-safe
Cons
This super-automatic espresso machine has a 17 inch footprint, means you can fit it in any part of your beautiful home. Yet, despite its size, this DeLonghi model provides five drink options out of which four can be avail just at the touch of a button. Also, this small machine has a professional burr grinder that allows you to grind fresh beans every time you need fresh coffee.
The adjustable manual system mixes steam and milk well so can you get the longest-lasting and thicket foam for your favorite cappuccino. In short, it provides you great control over the drinks. So, if you love experimenting, invest in this best super automatic espresso machine under 1000.
Pros
Can easily fit in any place
Provides 5 drink options at the touch of a button.
Drinks you can make: Latte, Cappuccino, Espresso (multi-length), Hot Water, Americano
Maintenance is super easy––requires half the cleaning time, unlike competitor machines.
Cons
This coffee machine has the capacity to make a large variety of drinks for a crowd. Its innovative technology lets you be your espresso "expert" without any difficulty. It's also super programmable––with easy to use control panel. When choosing "Expert Mode," you can control everything like the strength of your espresso, the amount of milk and water you used, shot temperature, and the amount of ground coffee per brewing, etc.
Moreover, the grinder is of high-quality and makes no noise, helping you get the
best drink.
Pros
It's customizable; super easy to operate
It can prepare two coffee drinks simultaneously
Prepares 43 specialty coffee drinks
Best for offices and restaurants
The milk Preparation System is semi-automatic
Drinks available at one touch; 12 specialty coffee drinks
No noise
Cons
Too large to use at home
A bit more expensive than other Jura models
What is an Automatic Espresso Machine?
Just turn it on, and the automatic espresso machine will control the water volume––pushed through the coffee grounds. You don't have to press any button to stop the flow of water as this machine has an internal timer that usually takes 25-30 seconds to cut off the shot. This is handy and convenient because it allows you to step away while making a cup of coffee. A fully-automatic and semi-automatic machine both are great options for multitaskers.
How does an Automatic Espresso Machine work?
All automatic espresso machines grind coffee beans perfectly and deposit the grounds into the brew part of the machine, where they will be brewed. You can choose the liquid volume using the controls on the machine.
What to Look for in an Automatic Espresso Machine
When buying a new Automatic Espresso Machine just keep in mind the following 7 things to get the most from your money. Searching for the best automatic coffee machine is not hard at all and the user needs to check out if the machine fits their lifestyle.
Things to look for when investing in an Espresso Machine:
Same as you search for other machines, there's nothing special to look for in an Espresso Machine but a few essential things such as
Durability
Grinding Capacity
Water Storage
Frothing Capability
Ease of Cleaning
Ease of Storage
Pleasing Aesthetics
Types of Espresso Machines
1. Manual Espresso Maker
This type of machine produces high-quality espresso.
The user gets more control over the process.
A decent design to have on your countertops.
To Keep in Mind:
For beginners, it may be difficult to use
These units are a bit costly
Only recommended for experienced people
2. Semi Automatic Espresso Machine
It is easier to use for beginners
Allows a high-level of control.
Perfectly brew high-quality shots of espresso.
To Keep in Mind:
A little research is required. Some models are expensive.
3. Fully Automatic Espresso Maker
Easy to use.
Available is different price ranges.
To Keep in Mind:
Some models are expensive.
Less control over the particular flavor.
4. Super Automatic Espresso Machine
Super easy to use.
Have many features available–––"All-in-One" system with built-in grinders and programmable settings.
To Keep in Mind:
Less use of hands as the process is automotive
They tend to be more expensive, although you can still search for affordable models.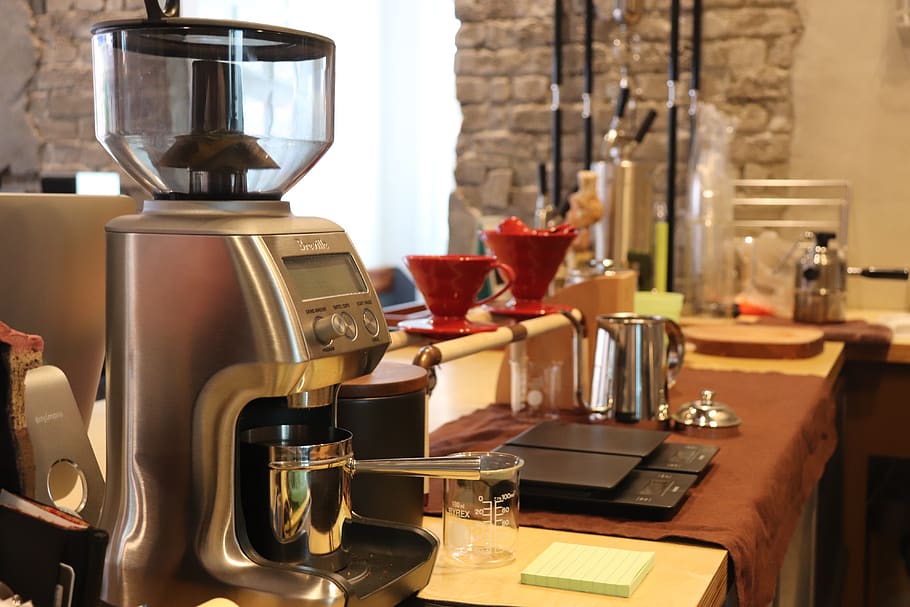 Things to consider before buying a Super Automatic Espresso Machine
When searching for the best Automatic Espresso Machine, you will need to consider the following essential factors.
Ease of Use
Ease of Cleaning
Cost
Your Drink Preferences
Customer Service
Durability
Size
Extra Features to Consider
Built-In Coffee Grinder
Cup Warmer
Programmable Settings
Frothing Wand
How to Take care of Automatic Espresso Machine?
Cleaning Non Removable Brew Groups
You can clean Non-removable brew groups internally only because this component of the machine is inseparable. You will need cleaning tablets for this purpose. Brands like Jura, comes with their own line of cleaning tablets and you can get that in the market easily.
Select the automatic cleaning cycle and the tablet will do all the work in one go. Juts place a large bowl under the espresso spout so that it could catch the dirty water.
Cleaning Removable Brew Groups
First, you'll need to remove the brew unit.
Rinse under warm water. We repeat use just warm water and no soap or solvent.
Air-dry the brew unit before putting it back into the machine.
Wipe excess grinds from the lower area of the brew unit. 
When cleaning any type of espresso machine always read your user manual as this should be your first step when cleaning the appliance on a deeper level.
THE VERDICT:
So, now comes to the point––What's The Best Automatic Espresso Machine?
As seen above the detailed automatic espresso machine reviews, all machines have their own pros and cons but one that shines above is the Jura E8 as it allows you to be an espresso 'expert.'
Thank you for reading!
Share this article with all coffee lovers.